QUOTE:
"Think more of your own progress than of the opinion of others."
AUTHOR:

Felix Mendelssohn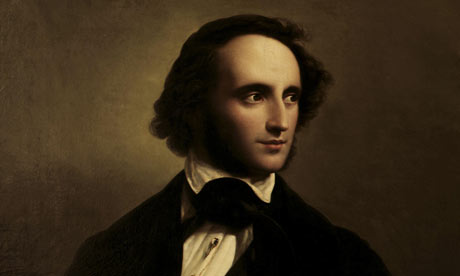 MEANING OF THE QUOTE:
"In the end, what only matters is what you think of yourself."
COMPOSER
CHOPIN
Fantasie-Impromptu Op. 66
Played by

Horowitz
a style of music roughly beginning in the Romantic Period written for a solo instrument, typically the piano, that is improvisational in sound. The music was written "off the cuff" so to speak and is loosely performed and interpreted.
a composition free in form and inspiration, usually for an instrumental soloist
IMPROVISATION

:
the creative activity of spontaneous ("in the moment") musical composition
CLASSIC
: Something judged over a period of time (often lasting through generations) to be of the highest quality and outstanding.
This is a modern version of Chopin's classic piece:
GENERAL MUSIC
01. PROCEDURES
03a. ECHO TECHNIQUE: "

COME PLAY THE STICK GAME

" REVIEW
03b.
ECHO TECHNIQUE: TO A PULSE EACH STUDENT PERFORMS A 2-MEASURE
RHYTHMIC PATTERN AND THE CLASS ECHOS (IMPROVISATION)
04. ELEMENTS OF MUSIC WE ARE ALL EXPERTS AT: BEAT, RHYTHM, PITCH
05. LEARNING RULES ON HOW TO TAKE CARE OF THE RECORDER TO MUSIC
USING "
PIGGY-BACK
" LYRICS I WROTE TO THE FAMOUS 1967 POP TUNE:
05. USING
"

THE
BEAT GOES ON

" TUNE, INVESTIGATE THE "MUSICAL FORM" OF
THE PIECE BY UTILIZING A MATHEMATICAL COLORED GRAPH OF THE BEATS
WITH COLORS ARRANGED BY PATTERNS OF SOUNDS (MELODIC PATTERNS)
ALSO SHOWING HOW MUSIC IS MATH
ADV. STRINGS
01. PROCEDURES/RULES ON HOW TO TAKE INSTRUMENTS OUT OF CLOSET AND
PUT THEM BACK (PRACTICE)
02. SET-UP STANDS AND PASS OUT MUSIC (SELECTION OF LIBRARIAN?)
.......a. OPEN STRING BOWING AND ECHO BOWING
.......b. "HOE DOWN" REVIEW (FOR DOUBLE STOPPING AND SPICCATO BOWING)
.......c. SIGHT READ THROUGH "ORANGE BLOSSOM SPECIAL"
BEG. STRINGS
01. GO OVER

RULES AND ANY QUESTIONS REGARDING THEM
04. REVIEW VIOLIN PARTS and CARE OF INSTRUMENT