QUOTE:
"Among the artistic hierarchy, birds are probably
the greatest musicians to inhabit our planet .. "
AUTHOR: Oliver Messiaen
MEANING OF THE QUOTE:
"From the very beginning man has
been imitating the music of birds. "
COMPOSER
RICHARD STRAUSS
Birgit Nilsson, Soprano as Salome
Vienna Philharmonic Orchestra
The leitmotif associated with Salome herself
in Richard Strauss's opera Salome.
(A

leitmotif

/ˌlaɪtmoʊˈtiːf/

is a
"Short, constantly recurring
musical phrase
"

[1]
or motive associated with a particular person, place, or idea.)
Maria Ewing, Soprano as Salome
King Herod begs Salome (his step-daughter) to dance
for him. Having been rejected by her twice before, he
provides incentive to her; the granting of any one
wish as long as she wants to dance for him. Piqued
by
his generous offer and when satisfied he will
do as she wishes, she begins the seductive
"Dance
of the Seven Veils"
Aleksandra Ekster: Costume Design for Dance of the Seven Veils
Chamber Theatre's 1917 Production of Salome by Oscar Wilde
where she slowly removes each
of the seven veils she is wearing until she lies
naked at her stepfather's feet (this is not
stated specifically but suggested).
Iman Maleki, Morteza Katouzian: Salome's Dance
material as written especially
the singer performing the role
of Salome, Marie Wittich
who was already a 37 year old woman,
with a somewhat matronly figure,
trying
to play a 16 year old. She
vehemently
refused to perform the
"Dance of the
Seven Veils"
Leon Bakst: Costume Design
Salome in Dance of the Seven Veils
head
of

John the Baptist

)
Nicholas Roerich: Salome with the Head of St John the Baptist
saying in her often-quoted remark to
Strauss,
"I will not do it; I'm a decent
woman."
This created a situation where
A dancer had to stand in for her.
Salome's wish is to immediately ask for
the head of Jochanaan (John the Baptist)
to be delivered to her on a silver platter.
"Give me his head on a silver platter."
King Herod trys to persuade her to change
her mind by offering other things but
Salome
holds steadfast to her wish and
the King
grants her it as promised.
Moments later, the king's guards return with
the Prophet's severed head delivered on a
silver platter as she requested.
Overjoyed, Salome grabs the head as if
Lokanaan were still alive and speaking
passionately to it proceeds to kiss his lips.
Disgusted by Salome's actions, King
Herod orders his guards to execute her.
SALOME
Soprano
Ljuba Welitsch
as Salome
1949
https://mega.co.nz/#!DYoTmTIa!aHndGlu9vQ
-brMRRUDdI5Xv7VCIYGSpznpGLIiy0C-w
SALOME
Ljuba Welitsch, Soprano as Salome
Role Debut, 1957
Having composed the opera in German,
the version that it has become
widely known in, it has also has a
history of being presented in French.
The
world's most famous proponent of
the role,
soprano Mary Garden,
Paris, and other cities.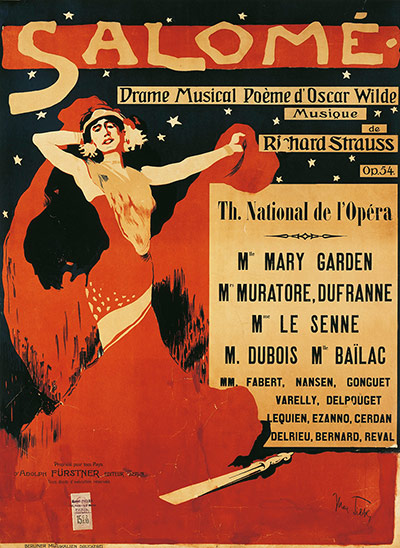 In the 1930's soprano
Marjorie Lawrence
SALOME
Marjorie Lawrence, Soprano as Salome
Marjorie Lawrence as Salome
sang the role in both French (for Paris)
and German (Hanes Metropolitan Opera,
New York) after Strauss made an alternate
version in French (the language of the
OSCAR WILDE and "SALOME"
by

Oscar Wilde
The Salomé theme has been a prominent
theme in both literature and the visual arts
Romanesque Fresco: Müstair, Romanesque Frescoes in the St. Johann Monastery, c. 1160's
Salome
Bayerische Staatsbibliothek, Clm 835, f. 137
Psalter (Munich Golden Psalter)
England [Gloucester], 1st quarter of the 13th century
Salome Dancing for the Head of John the Baptist, 1323
Jean de Berry: The Dance of Salome-Petites Heures, ca.1375
Herod Antipas with the Head of John the Baptist in Salome
Stained Glass, Saint Severin Church (Paris, France)
John The Baptist Window: Salome Dancing Before Herod
Chartres, Saint-Pierre Church
Photos de Vitraux: La Dance de Salomé
It was
revived in the Nineteenth Century
by various authors, but when Oscar
Wilde
wrote his version of Salomé, in
1894, it took the world by storm.
Georges Desvallières: Salome, 1905
Lotte Nicklass: Salome, 1915
Salome, 1923
the epitome of female depravity.
Salome Dancing, known as Salome Tattooed
Wilde wrote Salomé in French in 1891 but the
play was not produced for five years. In 1892
rehearsals for the play's first production were
planned, but halted when a British government
official in charge of theater censorship,
banned it because of an old law forbidding the
depiction of Biblical characters on stage.
Relief depicting the Life of John the Baptist
Amiens Cathedral, c.1531
In 1893 the play, written
in French,
was published
simultaneously in both France and England with
drawings by the artist Aubrey Beardsley,
Oscar Wilde drawn by Aubrey Beardsley
Many famous performers portrayed
Salomé. The most notable of
these were

Mata Hari
in her
"Dance of the Seven Veils"
Wilde's version of the story has spawned several other
artistic works with the most famous being
Ric
hard
Strauss

's

opera

. Strauss had seen Wilde's
play
in
Berlin, in November 1902, at
Max Reinhardt

's
'Little Theatre'
with
Gertrud Eysoldt
in the title role and was so
taken with it he began
to immediately compose
his opera Salome in the summer
of 1903. Strauss saw the play
performed using Hedwig Lachmann's
German translation version
Hedwig Lachmann
1865-1918
and used it as the basis of his
composition, moving the center of interest
James Tissot: Herod (Hérode)
(as in Wilde's version),
completing it in 1905 and premiering
the opera later the same year
The Strauss opera was not the
only operatic treatment from Wilde's
a

Salomé

in 1905. He was involved
in a debate with Strauss to prove
his music was written earlier than Strauss's
version. Mariotte's version premiered in 1908.
Tamara Karsavina: Autochrome by Baron de Meyer, c.1908
La Tragédie de Salomé 28th June, 1913:
Tamara Karsavina as Salome at Drury Lane, London
Music by Florent Schmitt
Based on Aubrey Beardsley Illustrations
Costume by Sudeykin for Tamara Karsavina in Salomé
successfully toured
Europe with her show
"The Vision of Salome" in it dancing
to an arrangement of Strauss's music by
Belgian musician and critic Marcel Remy.
Alphonse Mucha:
Salomé, 1897
Robert Henri

:
Salome

, 1909
Gustave Adolphe Mossa:
Salome

, 1908
Lucas Cranach: The Feast of Herod,
1533
Andrea Solari

: Salome Receives the Head of St. John the Baptist, 1506-7
Gian Francesco Barbieri (1591-1666):
Salome
Michelangelo Merisi da Caravaggio: Salome with the Head of the Baptist c.1609
Erte: Salome
Barnardo Strozzi: Salome
Bernardino Luini: Salome with the Head of John the Baptist
Bernardo Martorell: Salome
Carlo Dolci: Salome with Head of St. John the Baptist
Domenico Ghirlandaio: Salome
David Teniers Jr: Feast of Herod
Fra Filippo Lippi: Salome
Salome Dancing at the Feast of Herod
(Details from the Fresco)
Paul Delaroche: Herodias and Salome Holding the
Head of John the Baptist in a Bronze Vase
Giovanni Battista Tiepolo: Salome
Girolamo Romanino
Onorio Marinari: Herodias and Salome with the Head of John the Baptist
Juan de Flandes: Herodias' Revenge, 1496
Jacinta Gil Roncales: Salome
Jacob Cornelisz van Oostsanen
Jan Adam Kruseman
Jean Jacques Henner: Salome
Josef Wenig: Salome, 1907
Lucas van Leyden
Juan Flamenco:
Decapitation of St. John Baptist
Prado, Madrid 15th Century
Maurycy Gottlieb
Maurycy Gottlieb: Salome's Dance
Quentin Massys: Salome
Rogier van der Weyden
Georges Antoine Rochegrosse: Salome
Tiziano Vecellio (Titian): Salome, c.1515
Henri Regnault: Salomé, 1870
Federico Ribas: Salomé, 1918
G.Vereschagin
Henri Léopold Levy: Hérodiade, 1872
Frank Schmitz: The Dance of Salome
Raphael Kirchner, 1916
Vania Zouravliov: Salome
Unknown Flemish: Salome
Benozzo Gozzoli: The Feast of Herod and the Beheading of Saint John the Baptist
Guidoccio Cozzarelli: Dance of Salome, 1516
Salome with the Head of John the Baptist
Egidio Manganelli
Salome with the Head of Johannes
Willem Arondeus: Salome, 1916
SALOME LESSON IDEAS