QUOTE:
"Music expresses that which cannot be said
and on which it is impossible to be silent."
AUTHOR:

Victor Hugo
MEANING OF THE QUOTE:
"Feelings can be communicated through
music
in a way that words
can never express."
TCHAIKOVSKY
Symphonic Fantasy After Dante, Op. 32
Charles Edward Halle - Paolo and Francesca
Francesca da Rimini
by

Dante Gabriel Rossetti
Dante Gabriel Rossetti - Paolo and Francesca da Rimini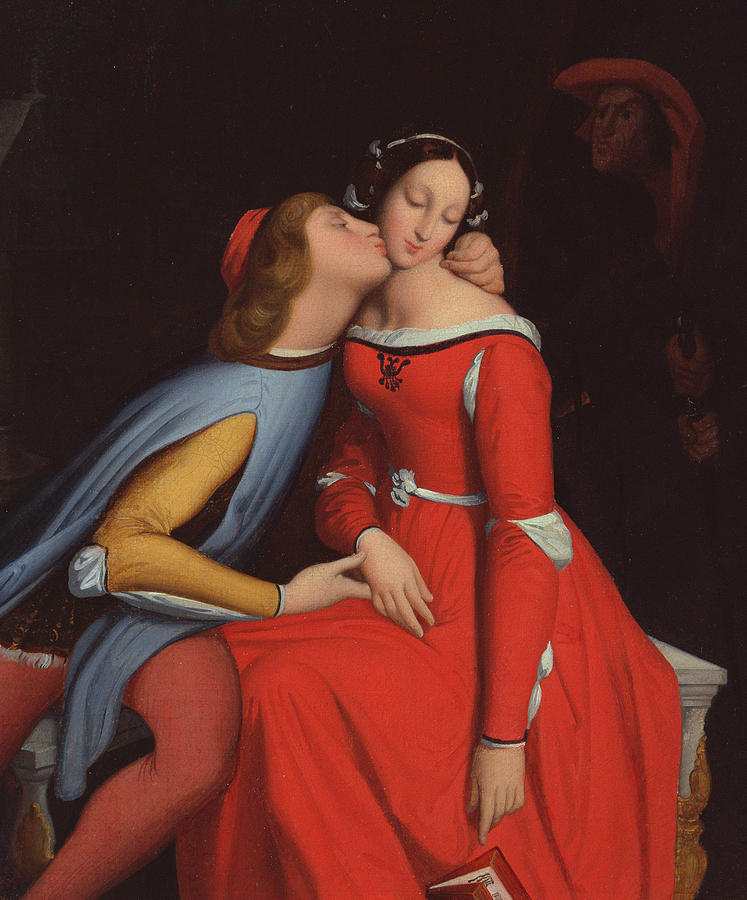 Francesca da Rimini and Paolo Malatestascene
by Jean-Auguste Dominique Ingres
Francesca da Rimini

was an Italian noblewoman.
Unhappily married, she fell in love with her brother-in-law.
When her husband learned of the affair, he murdered his wife and brother,
a tragedy recounted in D

ante's

Inferno.
GENERAL MUSIC
PERIODS 1 and 2:
01.
VIOLIN PARTS/DEMONSTRATION
.......a. REVIEWED and QUIZZED PARTS OF THE INSTRUMENT
.......b. DISCUSSED IMPORTANCE OF
THE PROPER LEFT VIOLIN HOLD
and
SHOULDER REST
.......c. STUDENTS TRIED OUT HOLDING THE VIOLIN WITH and WITHOUT THE SHOULDER REST
PERIOD 3:
01. COMPOSER HAYDN DISCUSSION and TIME FRAME OF HIS LIFE (WATCHED HAYDN VIDEOS ON MY BLOG:
http://missjacobsonsmusic.blogspot.com/2013/01/haydn-biography-and-information.html
)
02. COMPOSER WORKSHEET (50 OPEN BOOK FILL-IN and SHORT ANSWER QUESTIONS)
........a. STUDENTS TO READ HANDOUT INFORMATION ON THE COMPOSER JOSEPH HAYDN AND FIND THE
ANSWERS TO THE QUESTIONS ASKED ON THE LAST TWO PAGES (continued)
ADV. STRINGS
01. PARADISE
02. STARTED MY HEART GOES ON
........a.
SHIFTING THE 1ST FINGER (FULL SHIFT MOVING FINGER and THUMB TOGETHER)
.............1) UP: DO-RE-MI (0 1-1)
.............2) DOWN: MI-RE-DO (1-1 0)
...................a) FINGER NEVER LOSES CONTACT WITH THE STRING DURING THE SHIFT
...................b) SHIFT SHOULD BE MADE SLOWLY HEARING ALL THE SOUNDS DURING THE SLIDE PROCESS (A
"SLURPY" TYPE SOUND (AS THE SHIFTING SPEED LEARNS TO BE CONTROLLED THE
"SLURPY" SOUND WILL NOT BE AS PRONOUNCED and WILL BE ABLE TO BE CONTROLLED AS
TO WHAT THE PLAYER MUSICALLY INTENDS)
02. SONG: TWINKLE (BY ROTE)
........a. PLAYED ON STRINGS D and A (BOW UH) and G and D (BOW LH)
03. SONG: PARADISE (HARMONY)
........a. DISCUSSED COUNTING WHOLE/HALF/DOTTED HALF NOTES
..............1) REVIEWED THE "RULE OF THE DOT TO THE RIGHT SIDE OF A NOTE":
"A dot is half the value of the note it sits on."
..............2) REVIEWED TIED NOTES
.........b. REVIEWED NOTE NAMES OF TREBLE and BASS CLEF
.........c. PLAYED THROUGH THE SONG WITH TEACHER TRACKING HELP
04. SONG: SOMEBODY THAT I USED TO KNOW (MELODY)