QUOTE:
"
The pause is as important as the note.
"
AUTHOR:
Truman Fisher
MEANING OF THE QUOTE:
"There is no music without both sound and silence; it is the silence that makes the rhythm by
separating
sounds into patterns."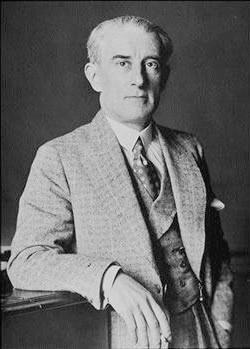 Joseph Maurice Ravel was born in Ciboure near Saint-Jean-de-Luz, Basses-Pyrénées, on March 7, 1875, and died in Paris on December 28, 1937. He composed Boléro between July and October 1928 on commission from Mme. Ida Rubinstein for her ballet troupe, which mounted the premiere at the Paris Opera on November 22, 1928, with Walter Straram conducting. Ravel conducted the first concert performance in Paris with the Lamoureux Orchestra on January 11, 1930, but the North American premiere had already taken place two months earlier, on November 14, 1929, when Arturo Toscanini conducted the New York Philharmonic-Symphony. Bernardino Molinari led the first San Francisco Symphony performances in July 1930; the most recent performances, in November 2006, were conducted by Yan Pascal Tortelier. Boléro is scored for two flutes and piccolo, two oboes (second doubling oboe d'amore) and English horn, two clarinets, high clarinet in E-flat, bass clarinet, two bassoons and contrabassoon, three saxophones (sopranino, soprano, alto), four horns, four trumpets, three trombones, bass tuba, timpani, two snare drums, cymbals, tam-tam, celesta, harp, and strings. Duration: about fifteen minutes.
The guest conductor at the San Francisco Symphony concerts of February 3 and 5, 1928, was a tiny man, fine-featured, with a long nose and a mouth like a horizontal line. His tightly contained white hair made him look older than his not quite fifty-three years; a certain diffidence betrayed the fact that he rarely found himself on a podium before an orchestra. Maurice Ravel had in fact led the Boston and Chicago symphonies and the Cleveland Orchestra within the past few weeks, and when he acknowledged the ovations in the Curran Theatre he was about one-quarter of the way through a triumphal tour that took him, between January 4 and April 21, to twenty-five cities in the United States and Canada. He was celebrated and prosperous; with few exceptions, he had already written the music that made him so. Those exceptions included Boléro, which would quickly become the most famous of all his works.
Before leaving for America, Ravel had promised Ida Rubinstein a new work for her ballet troupe. He was on vacation at Saint-Jean-de-Luz, just across the bay from his birthplace, and Gustave Samazeuilh, music critic of La Républicaine, was his guest. As the two were about to go out for their pre-breakfast swim, Ravel made a detour via his piano and played a melody. "Don't you think this theme has a certain insistent quality?" he asked. "I'm going to try and repeat it a number of times without any development, gradually increasing the orchestra as best I can." As soon as Ravel returned to Le Belvédère, his villa west of Paris, he began his new score. His first working title was Fandango, but realizing that the increase in speed and the sudden stops characteristic of that dance were contrary to his idea for the new piece, he retitled the piece Boléro. Ida Rubinstein's dance, in its smoky Spanish café setting, enjoyed considerable success, but it was only when her exclusive performance right elapsed and the first concert presentations took place that the staggering popularity of Boléro began.
Here is Ravel on Boléro: "I am particularly anxious that there should be no misunderstanding as to my Boléro. It is an experiment in a very special and limited direction, and it should not be suspected of aiming at achieving anything different from, or anything more than, it actually does achieve. Before the first performance, I issued a warning to the effect that what I had written was a piece…consisting wholly of orchestral texture without music—of one long, very gradual crescendo. There are no contrasts, and there is practically no invention except in the plan and the manner of the execution. The themes are impersonal—folk tunes of the usual Spanish-Arabian kind. Whatever may have been said to the contrary, the orchestral treatment is simple and straightforward throughout, without the slightest attempt at virtuosity.... I have done exactly what I have set out to do, and it is for listeners to take it or leave it."
Ravel uses two melodies. The first could stand by itself, but the second starts so obliquely that it has to be a continuation rather than a beginning. In presenting them, Ravel brings each around twice before going on (or returning) to the other. He traverses this pattern of AABB four times before wrapping the piece up with what promises to be a single compressed AB.
How does Ravel arrange his long crescendo? He begins with solo instruments playing the melody and progresses to groups, often assembled in novel and effective ways. Much of the effect of the crescendo is vested in the accompaniment. A snare drummer taps out the bolero rhythm from beginning to end, a second drummer joining in for the final statement of AB. But violas and cellos mark the beat too, and as soon as we have heard the first melody through once, Ravel begins to build the accompaniment. Often, the instrument that last played the melody joins the accompaniment team. When the two melodies come around for the last time, the obsessive rhythm is beaten out with an increasing dissonance. How do you end such a piece? When a dynamic crescendo is no longer feasible, Ravel makes a huge harmonic leap. We have been at a C major standstill for fifteen minutes. Virtually without warning, we are suddenly plunged into E major. The shock destroys the piece, which collapses in upon itself as a mined tower collapses. Fair enough as a symbol, for Boléro was a radical challenge to the most basic assumptions of Western concert music.
The Queensland Symphony Orchestra
https://www.youtube.com/watch?v=xn7CYzPMf2o
01. VIOLIN RIGHT HAND PIZZICATO
........a. RIGHT HAND PIZZICATO IN GUITAR POSITION
........b. REPEAT RIGHT HAND PIZZICATO HAND POSITION HOLDING THE VIOLIN NORMALLY
02. REPEAT OPEN STRING SONG BATMAN USING RIGHT HAND PIZZICATO
........a. THIS SPECIFIC RIGHT HAND PIZZICATO IS USED TO ESTABLISH RIGHT ARM BOW PLACEMENT
03. INTRODUCTION TO THE BOW HOLD
JUNE 5th 5:00 PM (4:30 CALL TIME) DEDICATION FOR PATRICK'S GARDEN
VOLUNTARY PARTICIPATION TO PLAY "STAIRWAY TO HEAVEN"
MUSICAL: "UNSINKABLE MOLLY BROWN"
FINISHED THE MUSICAL: "OLIVER"