WHAT IS SILENCE?
Johann Henry

Fuseli

:
Silence, 1799-1801
SOME QUESTIONS TO PONDER
IS SILENCE THE ABSENCE OF SOUND?
-----
IS
THERE REALLY SILENCE IN THE
ENVIRONMENT IN WHICH WE LIVE?
If the room were completely silent for 5 minutes how many
ambient sounds

or background sounds would be heard?
WHAT IS SOUND?
-----
WHAT IS NOISE?
-----
IS THERE ANY DIFFERENCE
BETWEEN SOUND AND NOISE?
"Noise is a nomad;
sound has a destination."
~

Haroon Mirza

(English artist, b. 1978)~
IS SILENCE HEARD OR LISTENED TO?
-----
WHAT IS THE DIFFERENCE BETWEEN
HEARING AND LISTENING?
"To listen is an effort,
and just to hear is no merit.
A duck hears also."
~

Igor Stravinsky

(Russian-born modern composer, 1882-1971)~
WHY IS SILENCE IMPORTANT IN THE
PERFORMANCE OF A MUSIC PIECE?
-----
WHY IS SILENCE IMPORTANT TO THE
MUSICIANS
IN THE ORCHESTRA?
----
WHY IS SILENCE IMPORTANT TO THE AUDIENCE?
-----
HOW DOES THE CONDUCTOR COMMUNICATE
TO PERFORMERS WITHOUT SPEAKING?
-----
WHAT IS BODY LANGUAGE?
(What are some ways of communicating
using body language?)
"A painter paints his
pictures on canvas.
But musicians paint
their pictures on silence.
We provide the music,
and you provide the silence."
~

Leopold Stokowski

(British orchestra conductor, 1882-1977)~
WHAT IS THE ROLE SILENCE PLAYS
IN A MUSICAL COMPOSITION?
-----
WHAT DOES SILENCE DO TO THE SOUNDS
IN A MUSICAL COMPOSITION?
-----
HOW IMPORTANT IS SILENCE TO
T
H
E RHYTHM OF A PIECE?
-----
HOW DOES A COMPOSER USE
SILENCE TO CREATE EMOTION?
-----
CAN SILENCE BE SEEN
IN A PERFORMANCE?
-----
CAN SILENCE BE FELT?
"Music is the Silence
between the notes"
~
Claude Debussy
(
French impressionist composer, 1862-1918)~
HOW DOES SILENCE HELP US IN EVERYDAY LIFE?
-----
IS SILENCE A FORM OF COMMUNICATION?
-----
WHAT TYPES OF COMMUNICATIONS
ARE DONE THROUGH SILENCE?
-----
IS SILENCE A NEED FOR EVERYONE?
"Even silence speaks."
~Hausa Proberb~
-----
"Music and silence combine strongly
because music is done with silence,
and silence is full of music."
~

Marcel Marceau

(French minme, 1923-2007)~
-----
SILENCE
M
arcel Marceau and Victor Borge
https://www.youtube.com/watch?v=HlDDMmerHAo
HOW WOULD YOU DEFINE THE PROPER USE
OF SILENCE IN A CLASSROOM SETTING?
-----
WHY IS SILENCE NEEDED IN THE CLASSROOM?
Silence is the relative or total lack of

audible

sound

. By analogy,
the word silence may also refer to any absence of

communication

,
even in media other than

speech

. Silence is also used as total
communication, in reference to non verbal communication and
spiritual connection. Silence is also referred to no sounds uttered
by anybody in a room and or area. Silence is a very important
factor in many cultural spectacles, as in rituals.
-----
Music inherently depends on silence in some form or another to
distinguish other periods of sound and allow dynamics, melodies
and rhythms to have greater impact. For example, most music
scores feature

rests

denoting periods of silence.
-----
Some composers take the use of silence in music to an extreme.
4′33″
is an
experimental musical work
by
avant-garde
composer
John Cage
Hearing your inner self is silence
Silence is hearing those around you
Hearing nature is silence
Silence can only be heard when listening
Hearing can only be listened to by silence
Hearing when not listening can be deceiving
Silence and you will hear
John Cage
"There is no such thing as silence.
If so, what is silence?
Is silence sound?
Noise?
Music?"
-----
There's no such thing as silence. What they thought was silence, because they
didn't know how to listen, was full of accidental sounds. You could hear the
wind stirring outside during the first movement. During the second, raindrops
began pattering the roof, and during the third the people themselves made all kinds
of interesting sounds as they talked or walked out.
~

John Cage

speaking about the premiere of 4′33″~
4'33'' for Orchestra
(1952)
Laurence Foster, Conductor
Pronounced: "Four minutes, Thirty-Three Seconds"
composer

John Cage

(1912–1992). It was composed in 1952
for any instrument (or combination of instruments), and the
score instructs the performer not to play the instrument during
the entire duration of the piece throughout the three movements
(which, for the first performance, were divided into thirty seconds
for the first, two minutes and twenty-three seconds for the second
and one minute and forty seconds for the third). The piece
purports to consist of the sounds of the environment that the
listeners hear while it is performed, although it is commonly
perceived as "four minutes thirty-three seconds of

silence

."
4'33'' for Piano
(1952)
Armin Fuchs, Piano
4′33″ is an example of automaticism. Since the

Romantic Era

composers have
been striving to produce music that could be separated from any social
connections, transcending the boundaries of time and space. In automaticism,
composers wish to completely remove both the composers and the artist from
the process of creation. This is motivated by the belief that creation without
social pressure is impossible, there is no way for us to truly express ourselves
without infusing the art with the social standards that we have been subjected
to since birth. Therefore, the only way to achieve truth is to remove the artist
from the process of creation. Cage achieves that by employing chance to make
compositional decisions. In 4′33″, neither artist nor composer has any impact
on the piece, Cage has no way of controlling what ambient sounds will be
heard by the audience. 4′33″ challenges, or rather exploits to a radical extent,
the social regiments of the modern concert life etiquette, experimenting
on unsuspecting concert-goers to prove an important point.
First, the choice of a prestigious venue and the social status of the composer
and the performers automatically heightens audience's expectations for the
piece. As a result, the listener is more focused, giving Cage's 4′33″ the same
amount of attention (or perhaps even more) as if it were Beethoven's 9th. Thus,
even before the performance, the reception of the work is already predetermined
by the social setup of the concert. Furthermore, the audience's behavior is
limited by the rules and regulation of the concert hall; they will quietly sit and
listen to 4′33" of ambient noise. It is not easy to get a large group of people to
listen to ambient for nearly five minutes; unless they are regulated by the
concert hall etiquette.
The second point made by 4′33″ concerns duration. According to Cage, duration
is the essential building block of all of music. This distinction is motivated by the
fact that duration is the only element shared by both silence and sound. As a
result, the underlying structure of any musical piece consists of an organized
sequence of time buckets.

[23]

They could be filled with either sounds, silence
or noise; where neither of these elements is absolutely necessary for
completeness. In the spirit of his teacher Schoenberg, Cage managed to
emancipate the silence and the noise to make it acceptable or perhaps even
integral part of his music composition. 4′33″ serves as a radical and extreme
illustration of this concept, if the time buckets are only necessary parts of the
musical composition then what stops the composer from filling them with no
intentional sounds?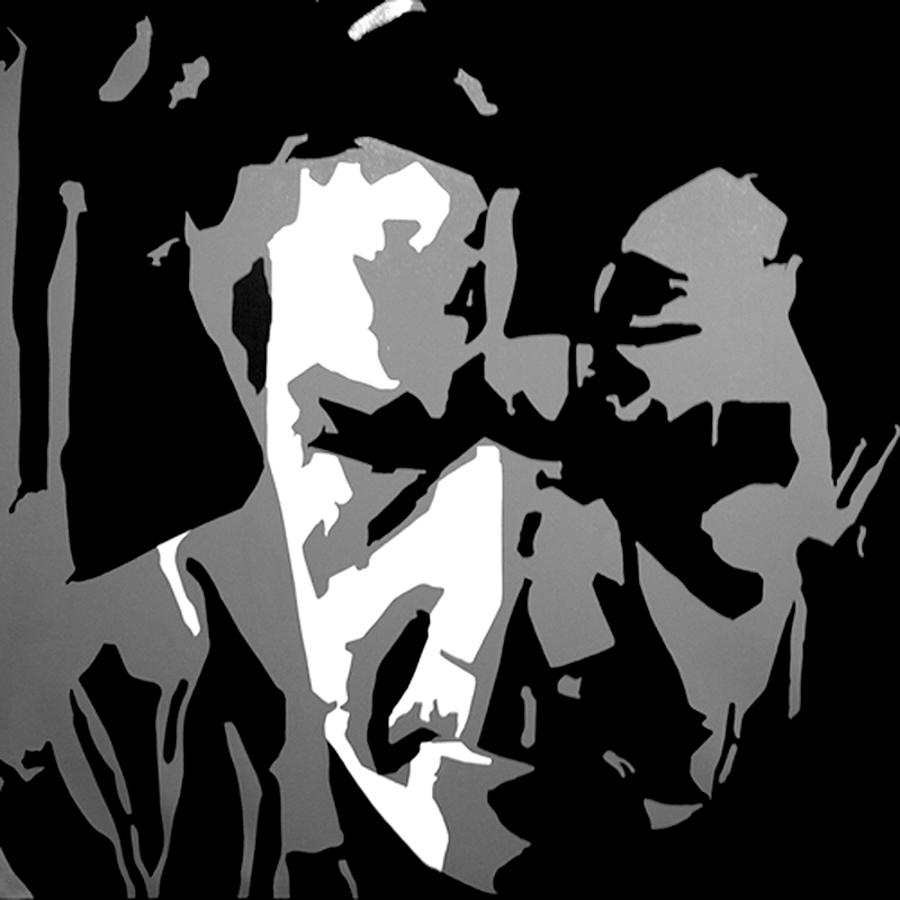 The third point is that the work of music is defined not only by its content but
also by the behavior it elicits from the audience. In the case of Stravinsky's
Rite of Spring

this would consist of widespread dissatisfaction leading up to
violent riots. In Cage's4′33″, the audience felt cheated by having to listen to
no composed sounds from the performer. Nevertheless, in 4′33″ the audience
contributed the bulk of the musical material of the piece. Since the piece
consists of exclusively ambient noise, the audience's behavior, their whispers
and movements, are essential elements that fill the above-mentioned
time buckets.
http://en.wikipedia.org/wiki/4%E2%80%B233%E2%80%B3
John Cage
on the Game Show
Lucien Levy-Dhurmer:
Silence is a source
of great strength.
that we cannot close our ears
with as much ease as we can our eyes.
Silence is a sounding thing,
to one who listens hungrily.
~Gwendolyn Bennett~
-----
One of the greatest sounds of them all,
is utter, complete silence.
~André Kostelanetz~
-----
Be silent or let the words
be worth more than silence.
Nothing strengthens authority
Silence is as deep as eternity;
You hesitate to stab me with a word,
and know not -
silence is the sharper sword.
first be silent yourself.
~Latin Proverb~
-----
Silence is exhilarating at first -
but there is a sweetness to silence
akin to the sweetness of listening
Nothing is more useful than silence.
~Menander of Athens~
-----
Silence is a fence around wisdom.
He who does not understand your silence
will probably not understand your words.
Silence is more musical than any song.
~Christina Rossetti~
-----
Nowadays most men lead lives
We must have reasons for speech
but we need none for silence.
Silence is the most perfect
~George Bernard Shaw~
-----
the whispers of the gods.
~Ralph Waldo Emerson~
-----
Silence is the true friend
~Confucius~
-----
In order to see birds
it is necessary to become
~Robert Lynd~
-----
The best answer to anger is silence.
Silence is the mother of truth.
~Benjamin Disraeli~
-----
Her hearing was keener than his,
he was unaware of.
~D.M. Thomas~
-----
There are times when silence
hardest arguments to refute.
Words can make a deeper scar
Spiteful words can hurt your feelings
but silence breaks your heart.
I go silent so I can write.
When my tongue is wagging
Silence is a sounding thing,
to one who listens hungrily.
~Gwendolyn Bennett~
-----
The ideal man is his own best friend
and takes delight in privacy.
It is as important to cultivate
not the words of our enemies,
but the silence of our friends.
~Martin Luther King, Jr~
-----
The real art of conversation
is not only to say the right thing
To silence another,
first be silent yourself.
~Latin Proverb~
-----
Say nothing
After silence,
the inexpressible
is music.
The most profound statements
are often said in silence.
Spiteful words can hurt your feelings
but silence breaks your heart.
Silence is the genius of fools
and one of the virtues of the wise.
To be silent often is to learn.
~Edward Counsel~
http://www.quotegarden.com/silence.html
http:
//injuredlamb.hubpages.com/hub/Silence-quotes
Redon: Silence
FIRST DAY DIRECTIONS CONCERNING
BODY LANGUAGE AND SILENCE