QUOTE:
"The key to the mystery of a great artist is that for reasons
unknown, he will give away his energies and his life
just
to make sure that one note follows another... and leaves us
with the feeling that something is right in the world."
AUTHOR:
Leonard Bernstein
MEANING OF THE QUOTE:
"Artists devote their lives to the creation
of
beauty for the rest of us to enjoy."
Dewing: Lady with a Lute, 1886
Julian Bream

, Lute
This work was originally scored for
the lute (not guitar) as soloist wit
an accompaniment of two violins
(without violas) and continuo (a
keyboard part that fills in the harmony
implied by the bass line). During
Vivaldi's time the cumbersome to play
plucked lute, an instrument which had
been popular for three hundred years,
was starting to be replaced by more
favored keyboard instruments like the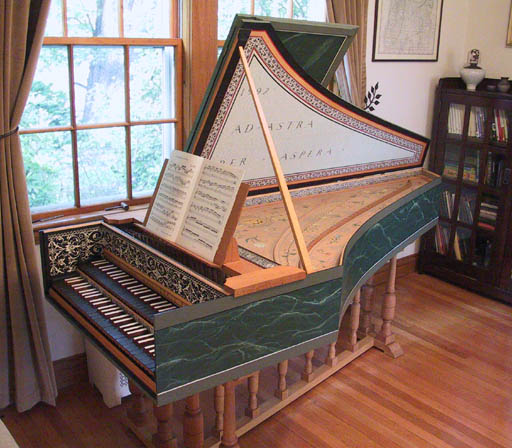 which was, in effect, a mechanized lute
as pressing a key down on a harpsicord
initiated a plectrum to pluck a string of
the instrument's internal harp.
Today much of the lute repetoire is
performed by the guitar (its predecessor)
in order to perform the music in its
There are three movements in this rather
short piece which are divided into the
conventional fast-slow-fast sequence
of Allegro giusto, Largo, and Allegro.
The slow movement has become
What Is a Baroque Lute?
History of the Lute
Description of the Baroque Lute
SUBSTITUTING A GUITAR FOR THE LUTE.
MAKE YOUR OWN COMPARISON.