QUOTE:
"This will be our reply to violence: to make music more
intensely, more beautifully, more devotedly than ever before."
AUTHOR:
Leonard Bernstein
"When you are angry its not the answer. Get
your emotions out with your music instead."
COMPOSER
CHOPIN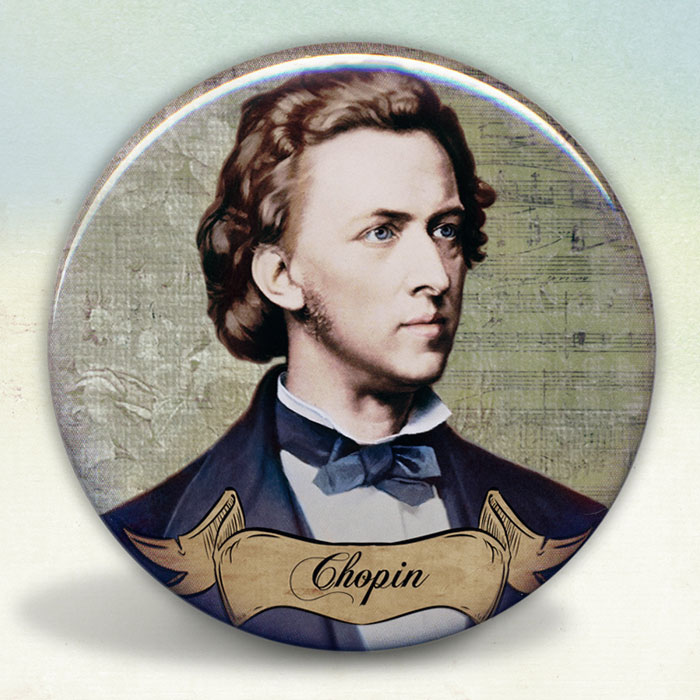 WALTZ, OP. 64,
NO. 1 IN D-FLAT
"MINUTE"
WALTZ, OP. 64,
NO. 1 IN D-FLAT
"MINUTE"
Chopin wrote the waltz in 1847 and had it
published in

Leipzig

, Germany by
Breitkopf and
Hartel
as one of the
Trois Valses
("Three
Waltzes"), Op. 64.
TROIS VALSES
("THREE WALTZES"),
OP. 64 (1847)
George van Renesse, Piano
https://www.youtube.com/watch?v=SI0UsfQ0uRY&feature=youtu.be
1. D-Flat Major (Minute Waltz)
2. C-Sharp Minor
3. A-Flat Major
Each of the three is among
the
short-
est of his

entries

in the waltz form,
making them entirely unsuitable for effective
use in the ballroom. It was one of the last
pieces Chopin wrote, as his health was
already
failing and his relationship with his
girlfriend,
George Sand, was starting to
break down.
Frederic Chopin and George Sand
The piece
,
dedicated to his student,
Delfina Potocka

,
Delfina Potocka
is given the

tempo

marking
Molto
vivace.
Although it has long been known
as the
"Minute [accent on the second syllable
(my noot)] Waltz" meaning a "small" waltz.
A
publisher gave the waltz that nickname
be-
cause it was short and therefore not
because
it can or should be played in a
minute.
It was never Chopin's intent for
this waltz to
be played in one minute: a
typical

performance
of the work will last
between
one and a
half
and two and a
half minutes.
Chopin as a rule did not like nicknames
that became attached to his works however
this waltz actually has two. Chopin got the
inspiration for this waltz as he was watching
a small dog chase its tail, which prompted
the composer to name the piece, "Valse du
on the garden terrace when Sand said to Chopin:
"If I had your talent, I would compose
a fortepiano piece for this dog."
Chopin immediately went to his piano and did
exactly that. The scurrying, playful music of
this waltz is said to have been inspired by this
sight. It is interesting to

listen

to this piece with
your eyes closed, because then it is quite easy
to imagine a dog playfully spinning around.
Chopin was fond enough of this piece that
he included it in his final concert in Paris,
in 1848, the year before he died.
WALTZ, OP. 64,
Just because Chopin never meant to have
this piece performed in a "minute" that has
not stopped people from trying. The waltz
is 138 measures long, with one fifteen-
measure repeat included, and thus it would
have to be played at almost 420 quarter
notes per minute in order to play it
WALTZ, OP. 64,
NO. 1 IN D-FLAT
"MINUTE"
Played in One Minute
NO. 1 IN D-FLAT
"MINUTE"
Ignaz Friedman, Piano
(The picture seen here is not Friedman)
MUSICAL ANALYSIS
THE "MINUTE WALTZ"
With Words Added
"THE MINUTE WALTZ"
Lyrics by Lan O'Kun
Barbra Streisand Sings
The waltz is a salon dance that originated
from folk country-type dance forms.
It evolved into an eloquent and aristocratic
dance and became an important
entertainment of royals and nobles at the
beginning of the 19th Century
LINKS
http://www.pianoparadise.com/downloadmp3/ChopinMinuteWaltz.mp3
http://en.wikipedia.org/wiki/Minute_Waltz
http://www.answers.com/topic/minute-waltz
http://www.classical-music.com/article/15-composers-and-their-dogs
http://www.wqxr.org/#!/story/310144-saturday-morning-cartoons-looney-tunes-and-waltzes/
http://www.radiochopin.org/episodes/item/450-waltz-in-d-flat-major-op-64-no-1
http://www.worldofopera.org/component/k2/item/731-episode-127-chopin-throws-the-dogs-a-bone-gallop-marquis-op-posth
http://imslp.org/wiki/Waltzes,_Op.64_(Chopin,_Frederic)
http://cantorion.org/music/137/Valse-%22Minute-Waltz%22-Original-version
http://www.psychologytoday.com/blog/canine-corner/201212/dogs-cats-classical-music-and-fr-d-ric-chopin
http://www.prx.org/pieces/45419-radio-chopin-2-the-minute-waltz-a-mispronunciati
http://www.quatre-mains.net/Scores/Chopin%20-%20Minute%20Waltz%20in%20D%20Flat%20-%20Primo.pdf
http://www.quatre-mains.net/Scores/Chopin%20-%20Minute%20Waltz%20in%20D%20Flat%20-%20Secondo.pdf
http://www.jacquielawson.com/preview.asp?hdn=0&mpv=3349101&path=105741
http://www.mfiles.co.uk/scores/minute-waltz.pdf
http://www.flutetunes.com/tunes.php?id=265
http://violinsheetmusic.org/classical/c/chopin/minute-waltz.pdf
https://beta.prx.org/stories/45419/details
http://robinlrilette.blogspot.com/2008_10_01_archive.html
http://chopinsociety.org/the-waltzes
https://books.google.com/books?id=kgqWtJ55cEsC&pg=PA8&hl=en#v=onepage&q&f=false
http://www.ayahiguchi.com/chopin_waltz/chopinwaltz_op64_no1.html
"SQUILT" LISTENING LESSON
http://homegrownlearners.squarespace.com/storage/chopinSQUILT.pdf
http://www.homegrownlearners.com/home/2014/1/2/free-squilt-lesson-chopins-minute-waltz.html
http://www.pianoparadise.com/downloadmp3/ChopinMinuteWaltz.mp3
https://static1.squarespace.com/static/50146616e4b006ef41196ac6/5504a3fbe4b
0a67e8e549157/5504a401e4b0a67e8e54c43c/1388624217273/chopinSQUILT.pdf
MORE LESSON IDEAS
http://www.coreknowledge.org/mimik/mimik_uploads/lesson_plans/108/THIS%20ISNT%20YOUR%20GRANDMAS%20MUSIC.pdf
http://joy2learn.org/pdf/lesson_plans/social_studies/Social_Studies_Industrial_Revolution.pdf
https://www.youtube.com/watch?t=35&v=CZTMVLYAZfU