QUOTE:
"Our attitudes control our lives. Attitudes are a secret power working twenty-four hours a day, for good or bad. It is of paramount importance that we know how to harness and control this great force."
AUTHOR:
Irving Berlin
MEANING OF THE QUOTE:
"What you feel inside will control your entire life on the outside."
NINE CONCERTOS for
TRANSVERSE FLUTE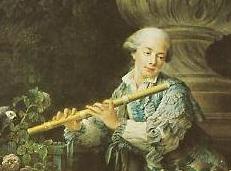 Transverse (or side-blown) Flute in C.
Peter Bressan (French, 1663–1731)
http://myloc.gov/Exhibitions/astheoldsing/warble/ExhibitObjects/TransverseFluteInC.aspx?Enlarge=true&ImageId=b7e10d59-1510-42b6-b209-013a3fe0ecb5%3a8021d656-ded4-40ab-abe8-3149bb4b9284%3a9&PersistentId=1%3ab7e10d59-1510-42b6-b209-013a3fe0ecb5%3a3&ReturnUrl=%2fExhibitions%2fastheoldsing%2fwarble%2fExhibitObjects%2fTransverseFluteInC.aspx
A revolution in flute making took place in the second half of the Baroque 17th century and was named traverso (now also known as traverso). This flute had significant modifications from earlier renaissance models including a conical bore, the addition of a key for the right hand little finger, and a more ornate body made in several pieces. The instrument was now fully chromatic because of the added key and thus was better suited for a role as a solo instrument. The change in the bore made a big difference in it's sound by improving the instrument's intonation and increasing the volume in the lowest notes; a great asset for soloing capabilities. The bore change also allowed the finger holes to be placed higher on the tube, making the instrument slightly easier to handle especially with smaller hands than a renaissance flute at the same pitch.
http://www.flutesbaroques.com/rippert_ang.php
Some famous manufacturers of this type of flute were Rottenburgh Jean-Hyacinth (1672-1756) and Carlo Palanca (1690-1783) making instruments that were played by both professional and amateurs
musicians
. Among the professionals were
Johann Joachim Quantz
(1697-1773), flutist at the court of Frederick II of Prussia and famous flute teacher. Quantz wrote a major treatise on traverso flute technique.
The transverse flute was so popular in the 18th century that this new, flexible instrument not only dethroned the recorder, but one Amsterdam publisher asked Vivaldi in 1725 to provide six concerti for distribution. From his many hundreds of works Vivaldi chose five, some originally for recorder with some dating back to 1703. He arranged these for flute and string orchestra and wrote another to make six. This collection was issued in 1728 as the famous Op.10.
GENERAL MUSIC
01. KEYBOARD THEORY WORKSHEETS WITH SHARPS and FLATS
02. MUSICAL: MY FAIR LADY
........a. REVIEW OF THE STORY
........b. REVIEW OF THE GREEK MYTH OF PYGMALION ON WHICH THE STORY IS BASED
..............1) WATCHED A SHORT VIDEO MADE BY A HIGH SCHOOL STUDENT ABOUT THE GREEK MYTH
http://missjacobsonsmusic.blogspot.com/2010/01/story-of-pygmalion-and-galatea-from.html
........c. TALKED ABOUT GEORGE BERNARD SHAW AUTHOR OF THE PLAY "PYGMALION" THAT MY FAIR
LADY IS BASED ON
..............1) SHOWED PICTURES OF SHAW
http://missjacobsonsmusic.blogspot.com/2011/04/george-bernard-shaw-pictures.html
.........d. EXPLANATION OF THE TERM "OVERTURE"
...............1) THE INSTRUMENTAL INTRODUCTION WHICH HAS SMALL PHRASES OF THE MELODIES THAT WILL BE HEARD IN THEIR ENTIRETY LATER ON IN THE MUSICAL WORK
...............2)

Overture
– Derived from the French word ouverture meaning "opening." There are various types of
overtures
in music (i.e. French, Italian, Sonata style) that serve as an instrumental introduction to
choral,
opera or
instrumental compositions.
...............3) STARTED TO WATCH THE MUSICAL
.....................a. MET MAIN CHARACTERS: ELIZA, HENRY HIGGINS, and COLONEL PICKERING
.....................b. HEARD SONGS: "WHY CAN'T THE ENGLISH" and "WOULDN'T IT BE LOVERLY"
01. VOLVER, VOLVER
........a. SIGHT READ
........b. WORKED ON MUSICAL ROAD SIGN DIRECTIONS
02. LOS MACHETES
03. CABALITO
BEG. STRINGS
01. VOLVER, VOLVER (HARMONY)SIGHT READ
02. SOMEBODY I USED TO KNOW