QUOTE:


"Great music is that which penetrates the ear with facility and
leaves
the
memory with difficulty. Magical music never leaves the memory."
AUTHOR:
Thomas Beecham
great music has patterns of sounds you cannot forget."
LAIDERONNETTE,
EMPRESS OF THE PAGODAS
LESSON PLANS
READ THE STORY:
http://www.gutenberg.org/files/25513/25513-h/25513-h.htm#Page_129
4. Conversation of Beauty and the Beast
Scott Brothers Duo, Pianos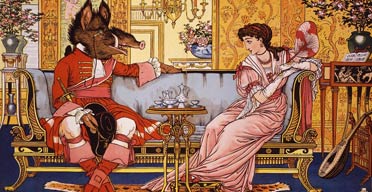 Walter Crane: Beauty and the Beast, 1874
MOTHER GOOSE SUITE
4. Conversation of Beauty and the Beast
Bernard Haitink, Conductor
Concertgebouw Orchestra, Amsterdam
Mercer Meyer: Beauty and the Beast
FOURTH MOVEMENT
Conversation of Beauty and the Beast
(Les Entretiens de la Belle et de la Bête)
This movement comes from a story by
Jeanne-Marie Le Prince de Beaumont

.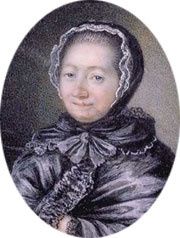 Jeanne-Marie Le
Prince de Beaumont
(1711-1780)
Here, the Beauty takes note of the Beast's
kind heart that makes him, somehow, less
unattractive. The Beast pleads with the
Beauty to marry him. At first the Beauty
declines, but finally agrees.
Margaret Evans Price
"
When I think how, kind-hearted you
are, you don't seem so ugly."
"
Y
es,
it is true, I have a kind
heart. Still, I am a beast."
"
Many men are more beastly than you.
"
"
If I were witty I would think up a fine compliment
by way of thanks, but I am only a beast.
"
"
Beauty, will you be my wife
?
"
"I
die happy because I have had
the pleasure of seeing you again."
"No, my dear Beast, you shall not die.
You shall live to be my husband!"
Walter Crane
The Beast vanished and at
her feet she saw a prince
as beautiful as the God of Love.
Eleanor Vere Boyle:
Beauty and the Beast
The prince thanked her for breaking
Margaret Evans Price
as the "grand-papa" of this
lilting waltz in the orchestra
version first played by the solo
clarinet and as the movement
progresses she moves to solo
flute then solo oboe. The Beast
is is perfectly described and easily
recognized as ponderous and
awkward by the deep grotesque
notes played at the bass of the
piano or in the orchestra version
by the contrabassoon.
When Beauty declares her love,
their melodies are combined. A
magical glissando (played in the
orchestra arrangement by the harp
and ending with a cymbal crash
symbolizing the breaking of the spell)
signals that the beast has been
transformed to his former state, a
handsome prince (the beauty is now
a solo violin and the beast a solo
cello in the orchestra version).
BEAUTY AND THE BEAST
LESSON PLANS
Toshiaki Kato:
Beauty and the Beast
Edmond Dulac
GRANADA ADV. STRINGS
1.
BOULEVARD OF BROKEN DREAMS
2. ELEANOR RIGBY
INTRO. TO INSTRUMENTS
GRANADA
1
. VIOLIN
a. Bow preparation information
b. Bow Hold started
2
. THEORY
a. Reviewed line and space rules in quiz form
HILLVIEW
1.
BACH
a. Questions 13 to 21
GRANADA BEG. STRINGS
1. CHARIOTS OF FIRE
2. CHOSE BOW LEADERS FOR CONCERT
3. IMAGINE
HILLVIEW ORCHESTRA
1.
HASTE TO THE WEDDING
2. 21 GUNS
3. NUMB