QUOTE:

"Talent is only the starting point."
AUTHOR:

Irving Berlin
MEANING OF THE QUOTE:
"Talent will only be of use if you
combine
it with hard work and effort."
COMPOSER
CONCERTO FOR
TRUMPET and ORCHESTRA (1796)
in E FLAT MAJOR HOB. VIIe:1
Complete
Martin Berinbaum, Trumpet
Johannes Somary, Conductor
English Chamber Orchestra
I. Allegro (sonata form)
II. Andante
(sonata form)
III. Allegro
(rondo form)
This is the last concerto of Haydn's career written
in 1796, when he was in his mid-60's. He was
stimulated to compose it by the
invention of a new keyed trumpet
by Anton Weidinger,
a trumpeter in the Viennese
Imperial Court Orchestra who had spent his
career perfecting an "organisirte Trompete"
(organized trumpet) designed to fill in the
gaps between the notes of the natural series
[the only notes the natural trumpet
Natural Eb Trumpet (No Valves)
(the instrument used at the time) could play];
five or six holes drilled in the instrument and covered by
padded keys provided the missing chromatic notes.
Weidinger's trumpet had more latitude in its lower range.
The keys on the instrument permitted the trumpeter to
produce more pitches, particularly chromatic tones,
not available on the earlier trumpet.
Haydn, experimenting with the keyed trumpet's new
capabilities, takes this concerto into levels of innovation
and virtuosity that had never been done before.
The draw back to this new trumpet was a loss of brilliant
tone. Eventually, about 1820, that was remedied when
the keyed trumpet gave way to the valve trumpet which
prevails in the modern symphony orchestra.
HEAR A KEYED TRUMPET PERFORM THE
2ND MOVEMENT OF THIS CONCERTO
SOME FAMOUS TRUMPET PLAYERS
CONCERTO FOR
TRUMPET and ORCHESTRA (1796)
in E FLAT MAJOR HOB. VIIe:1
Part 1
Allegro
Wynton Marsalis (born 1961)
Wynton Marsalis, Trumpet
English Chamber Orchestra
CONCERTO FOR
TRUMPET and ORCHESTRA (1796)
in E FLAT MAJOR HOB. VIIe:1
Part 2
Wynton Marsalis, Trumpet
English Chamber Orchestra
CONCERTO FOR
TRUMPET and ORCHESTRA (1796)
in E FLAT MAJOR HOB. VIIe:1
Finale: Allegro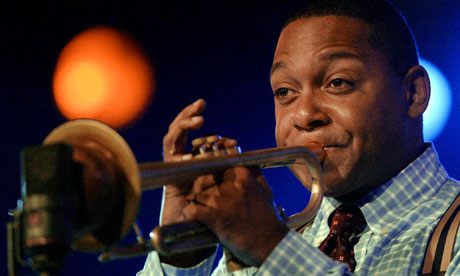 English Chamber Orchestra