QUOTE:
"One is hardly sensible of fatigue
while he marches to music."
AUTHOR:
Thomas Carlyle
MEANING OF THE QUOTE:
"The movement in music
sparks the adrenaline. "
COMPOSER
SOUSA
John Williams, Conductor
The Boston Pops Orchestra
and Invincible Eagle,
The Invincible Eagle March
"The President's Own"
United States Marine Band
the theme, and indeed the whole character of the
music, turns more muscular, more dramatic in the
latter half. While King Cotton does not quite reach
for the heroism associated with the famous marches
cited above, it nevertheless achieves a festive
grandeur and joy that make it irresistible to band
music enthusiasts. The theme itself is very similar
to the one in Sousa's 1893 Liberty Bell March,
used as the main theme to the once-popular
British television comedy show,
Monty Python's Flying Circus.
MONTY PYTHON'S
LISTEN AND VIEW
THE MUSIC NOTATION
TO THE MELODY
ON THIS VIDEO
(the number of bars is indicated in the parentheses)
|:A(16):||: B(16):||:Trio(16)
TRIO/GRANDIOSO-2nd time(16):|
AUDIO LINKS

Being that King Cotton was one of Sousa's
personal favorites he even made up some non-
sensible lyrics, for the private amusement of
children, to fit the second section of the march.
One of his soprano soloists, Marjorie Moody,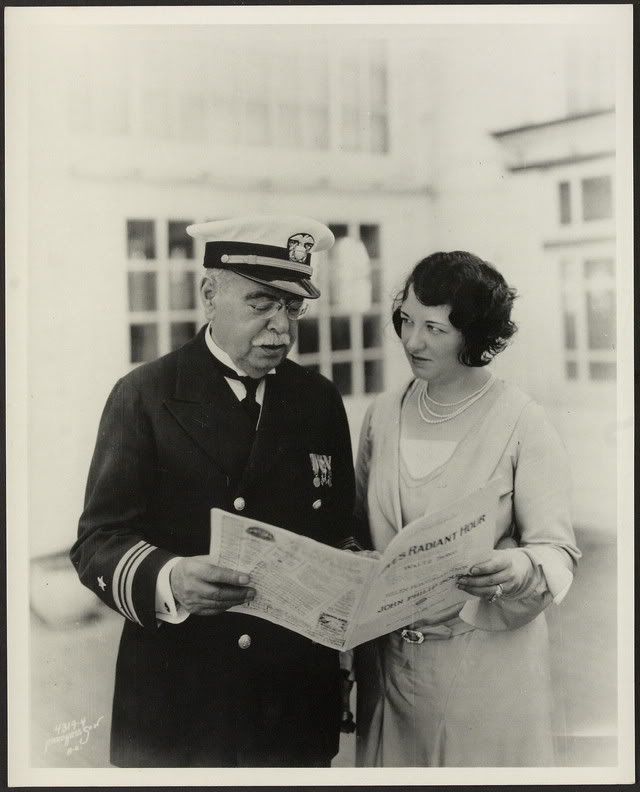 Sousa and Marjorie Moody
copied the

lyrics

down:
The sun was a-shining in the sky.
The sky was black and blue.
As Barnicle Ben and Jazzy Jen
It came down the avenue.
Edgar Degas:
Cotton Merchants in New Orleans, 1873