QUOTE:
"Anything that is too stupid to be spoken is sung."
AUTHOR:
Voltaire
MEANING OF THE QUOTE:


"What you might feel uncomfortable verbally expressing
out loud is easier to state through music."
COMPOSER
ANDERSON
THE SYNCOPATED CLOCK
THE SYNCOPATED CLOCK

(1951)
Leroy Anderson and His Pops Concert Orchestra
https://www.youtube.com/watch?v=IboyHfL2jno
The Syncopated Clock was used as
movie

by television stations in New
York City and Los Angeles in the
1950's making it immediately
recognizable to millions of people.
The song became very popular and
"A completely delightful Anderson melodic
strain is worked into a frothy, catchy and
richly recorded instrumental piece which
should stir up pop action."
A-Capella Singers
(No Lyrics)
Fidel Gener Calalang Jr, Conductor
University of Santo Tomas Singers
SYNCOPATION AND
THE SYNCOPATED CLOCK
there is a disruption in the rhythm that moves the
stress from an accented beat to a weak beat.
(Naturally Accented Beats are "Strong" or "Down" beats
Weak beats are "Up" or "Off" beats)
Syncopation Emphasing the Weak Beats
HOW MUSIC WORKS:
RHYTHM-ACCENTS AND SYCOPATION
A segment of Howard Goodall's
http
s://www.youtube.com/watch?v=zTQ1A7YT1pQ
In this arrangement, the "clock" in 4/4 time
(usually played by a form of temple blocks)
is alternating between louder and
softer tic noises.
Tick-Tock Blocks
But every so often where one of the loud
tics would occur there's a one beat pause,
followed by two quick beats to catch up
again. This causes the loud tick to fall
where the soft tick should have occurred.
As the piece proceeds, the "clock"
continues to indulge in brief moments
of syncopation. Some are expected by
the listener (as the tune repeats the
passage in which the first syncopation
occurred); others are not, creating a
whimsical and comic effect.
The Syncopated Clock has been been
instrumentally arranged many different
ways but the original percussion scoring
for this piece included a wood block,
Wood Block
triangle (alarm clock),
Triangle
cow bell,
Cow Bell
and wind whistle.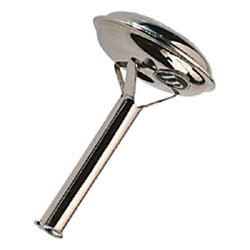 Wind Whistle
THE SYNCOPATED CLOCK
ARTICLE FROM:
Composed for orchestra, The Syncopated
2 minutes and 20 seconds long and was
written in Arlington, Virginia while the
composer was stationed in Washington,
D.C. in the Army. It was first performed at
the Boston Pops "Army Night," May 28, 1945
composer conducting. Lyrics were added
to The Syncopated Clock by
Mitchell Parish
Arthur Fiedler

, conducting the
Boston Pops,
first recorded it in analog
mono sound on June 18, 1950
and
later re-recorded in stereo analog sound
by the composer on June 26, 1959.
THE SYNCOPATED CLOCK
Arthur Fiedler, Conductor
Boston Pops Orchestra, 1951
In an interview Leroy Anderson was
asked the following question:
QUESTION:
"Which do you think of first,
the title, or the composition?"
ANDERSON:
"Well, actually, I do both. In certain
cases, such as 'The Syncopated Clock,'
I thought of the title, as it came to me,
because it incorporated an idea that I
thought could be expressed in music. I
noticed of course as everyone has, that
there have been hundreds and hundreds,
if not thousands, of tunes about clocks. It
suddenly struck me that all these clocks
were regular clocks, such as you hear
everywhere. No one had written a musical
composition based on a syncopated clock,
that is a clock that beats to a syncopated
rhythm. And the idea struck me as an
attractive one, and I then sat down and
wrote the music to with the title."
Rosemary Clooney, Vocalist
THE SYNCOPATED CLOCK
By: Mitchell Parish
There was a man like you and me,
as simple as a man could ever be;
And he was happy as a king,
He had a clock that worked all right,
It worked all right, but not exactly quite;
Instead of going "tick, tock, tick,"
the crazy clock went "tock, tick, tock."
The poor old man just raved and raved,
because nobody could say
Why his silly clock behaved
that hickory-dickory way.
But now a famous man is he,
He owns a public curiosity;
From far and wide the people flock
To hear the syncopated clock.
Tick-a-tock, Tick-tock,
Tick-a-tock, Tick-tock,
Tick-a-tock, Tick-tock,
Tick-tock, Tick-tock
Tick-a-tock, tick-a-tock,
There's a zing in the swing of that clock,
Tock-a-tick, tock-a-tick,
Don't you think it's a marvelous trick?
Ting-a-ling, ting-a-ling,
There's a zong in the bong of that ring,
Ling-a-ting, ling-a-ting,
Don't you think it's a wonderful thing?
The experts came to hear and see,
But none of them could solve the mystery.
They called Professor Einstein too,
He said "There's nothing I can do."
But soon the fickle human race
will find another freak to take its place,
And one fine day the man will hock
the poor old syncopated clock.
SYNCOPATED CLOCK
MUSICAL FORM ACTIVITY
SYNCOPATED MUSICAL CLOCK
LISTENING ACTIVITY
SYNCOPATED MUSICAL CLOCK
PIANO MUSIC