QUOTE:
"Music rots when it gets too far from the dance.
Poetry atrophies when it gets too far from music."
AUTHOR:
Ezra Pound
associated with the rhythm of movement something
that all human beings can relate to."
SANDPAPER BALLET
Andrés Salado, Conductor
Percussionists:
Alfredo Anaya and Alberto Román
In The Sandpaper Ballet (1954)
percussionists use three grades
of sandpaper to scratch out the
rhythms using sandblocks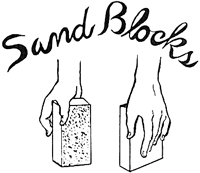 Sand Blocks
Wooden blocks covered with sandpaper that are
rubbed together to make a brushing sound.
SANDPAPER BALLET
Peter Dabrowski, Conductor
VSO and Percussionists:
Terry Shingler, Sonny Rosa,
in this unique take on the old
soft-shoe
vaudeville

routine when
dancers
spread sand on the stage and
did a
"tap-shoe" style dance (without
the
taps on the shoes) upon it.
INFORMATION FROM:
http://www.pbs.org/sleighride/Video&Music/Compositions_Sandpaper.htm
Composed for orchestra, his 3 minute
and 10 second Sandpaper Ballet
was written during 5 days before
its recording date on June 25, 1954.
Its first performance was in analog
mono sound but was re-recorded
in analog stereo sound by the
composer on May 28, 1959.
It is not a ballet score: Leroy Anderson
intended it to be an orchestral work
designed as a tribute to the soft-shoe
style of dancing associated
with vaudeville.
Quoting Anderson:
"Many years ago while the soft shoe dance was still
popular in vaudeville, sometimes dancers would
sprinkle sand on the stage to create a crackling sound
while performing. The drummers imitated this sound
by attaching sandpaper on wooden blocks which
they rubbed rhythmically against each other. This was
the background for my piece 'Sandpaper Ballet.'
The sandpaper covered blocks are in this case imitated
by two drummers. They use sand-paper in three
different strengths, coarse, medium and fine,
to create different effects."
The work opens with the strange, rhythmic
sound of what vaguely sounds like a snare
drum played with brush strokes but the
instruments really used are sandblocks:
sections of wood rubbed against
sheets of sandpaper.
The main theme is jaunty and carefree,
played by subdued, mellow strings. The
music gradually takes on a slightly brighter,
more colorful manner. The sandpaper
rhythms continue throughout and are even
heard in what one might describe as brief
cadenzas or solo rythmic passages.
LINKS