QUOTE:
"Every composer knows the anguish and despair occasioned by
forgetting ideas which one had no time to write down."
"Artistic inspiration is fleeting
(passing quickly) and unexpected."
ANTONIN DVORAK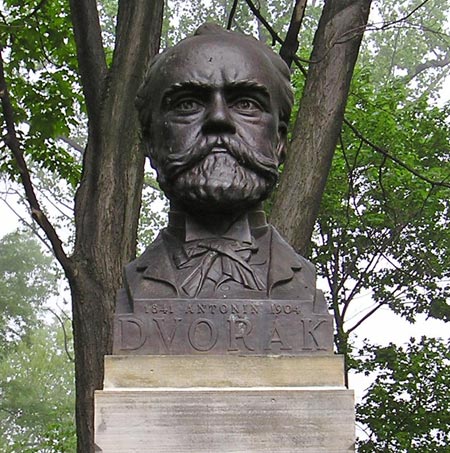 Dante Gabriel Rossetti: The Two Mothers, 1851
George Dunlop Leslie: Home, Sweet Home
(Gypsy Melodies), in January, 1880 at the
request of the leading
tenor
at Vienna's Hofoper
Opera House in Vienna c 1890
Prague born,
to write a new vocal work
especially for him. Walter
had long admired Dvorak's
songs and frequently presented
Dvorak's songs at his recitals.
As text material for the songs, Dvorak
chose seven poems from the first part
of the collection of Poems by the
a professor at

Písek

(fifty miles south of Prague).
Gypsy Melodies, celebrating the freedom
GYPSIES, ROMA, TRAVELLERS:
http://theriddleofprague.com/2013/10/10/gypsies/
In his poems Heyduk had hoped
to portray gypsy life as romantic, em-
phasizing their love for song and music.
Bohemians to be wilder and more
became extremely popular among
readers and was later published in
several editions. These poems portray notonly the
uninhibited freedom of gypsy life, the
bond between man and nature, but also, by
implication, the Czech people's bid to liberate
In deference to the singer, and to the
commercial sense of his Berlin-based
publisher

Simrock

, Dvorak set the poems not
in their original Czech but in German, using a
translation prepared by the poet Heyduk him-
self in such a way that, in declamatory terms,
the German version kept as close as possible
to the Czech original. The songs were publish-
ed soon afterwards in 1880 and were premier-
ed at Walter's recital in Vienna on February
4,1881 becoming an immediate success. Be-
cause the songs were only published with a
German text the Czech press was highly crit-
ical. Simrock soon brought out a Czech
edition of the text with an added

English
Francis Day: The Piano Lesson, 1895
Within the set of

Dvorak

's seven "Gypsy Songs" the
most famous and beloved song, with its both sad and
optimistic memorable melody, is song number
four
titled "Songs My Mother Taught Me."
Walter-Dendy Sadler: Home S
weet Home
SONGS MY MOTHER TAUGHT ME
Lyrics by Alfred Heyduk
Translation by Natalie Macfarren
Songs my mother taught me,
In the days long vanished;
Jean-François Garneray: La leçon de Piano
Seldom from her eyelids
Were the teardrops banished.
Harry Brooker: The Recital
Now I teach my children,
Each melodious measure.
Osmund Cain: The Rehearsal, 1946
Oft the tears are flowing,
Oft they flow from my memory's treasure.
Karl Harald Alfred Broge: The First Music Lesson
Although this piece,

Songs My Mother Taught Me

, was
originally written for piano and voice, it was later
who's performance of the song, which he
played frequently, helped make it famous.
Fritz Kreisler

, Arranger/Violin
http://www.youtube.com/watch?v=UlktfcLNAJ0&feature=related
Arthur Hughes: Of Love and Beauty
Itzhak Perlman, Violin
https://www.youtube.com/watch?v=IDGYNFXbKV0
George Goodwin Kilburne: The Recital, 1924
Cope Charles West: The Music Lesson, 1869
To create a purely instrumental piece
the vocal part (or melody) has often been
transcribed for various instruments.
This song, with a wonderful melody and
strong emotional impact, comprises two
stanzas, a prelude, interlude and postlude.
The theme itself consists of two eight-bar
periods (the second stanza features an ex-
tended closing section), with an unusual
rhythmical structure: the vocal line is
written in 2/4 time, while the piano ac-
companiment is in 6/8 time. According
to the writer Alec Robertson, in his
Dvorak's settings of the Gypsy Songs
"...reached his highest pinnacle as a song-writer.
Everything is in place here."
Marguerite Gerard:
The Piano Lesson, 1780
About fifteen years after Dvorak,
own musical setting of this poem.
CHARLES IVES
SONGS MY MOTHER
Jan DeGaetani, Mezzo-Soprano
1. My Song of Love Rings Through the Dusk
Má píseň zas mi láskou zní / Mein Lied ertönt, ein Liebespsalm
2. Hey, Ring Out, My Triangle
Aj! Kterak trojhranec můj přerozkošně zvoní / Ei, wie mein Triangel wunderherrlich läutet
3. All Round About the Woods are Still
A les je tichý kolem kol / Rings ist der Wald so stumm und still
4. Songs My Mother Taught Me
Když mne stará matka zpívat, zpívat učívala / Als die alte Mutter
5. Come and Join the Danci
Struna naladěna, hochu, toč se v kole / Reingestimmt die Saiten
6. The Gypsy Songman
Široké rukávy a široké gatě / In dem weiten, breiten, luft'gen Leinenkleide
7. Give a Hawk a Fine Cage
Dejte klec jestřábu ze zlata ryzého / Horstet hoch der Habicht auf den Felsenhöhen
Charles West Cope