QUOTE:
"If we were all determined to play the first violin we should never have
an ensemble. Therefore, respect every musician in his proper place."
AUTHOR:

Robert Schumann
MEANING OF THE QUOTE:
"No single person becomes successful on
their own; it takes the support of others.

"
Balazs Szokolay, Solo Piano
A humoresque (hu·mor·esque) or
[German Humoreske, from Humor, humor, from English

humor

]
is a
composition expressing a mood or a vague non-musical idea,
usually more good-humored than humorous.
Robert Schumann
the first composer to use the term as a musical
title, called his Opus 20 (1839) Humoreske
(it is atypically like a long suite).
Alicia de Larrocha, Piano
VI. Mit einigem Pomp
19:15
His Opus 88, No. 2,
ROBERT SCHUMANN
FANTASIESTUCKE
Gustav Mahler
Gustave Mahler
originally called his
Des Knaben Wunderhorn
E
lisabeth Schwarzkopf, Soprano
Dietrich Fischer-Dieskau, Baritone
London Symphony Orchestra
Antonin

Dvorak's

Humoresque in G-Flat,
the seventh in his collection
Eight Humoresques for piano (1894).
FOR PIANO
Rudolf Firkušný, Piano
Dvorak

,
was the director of the New York
National Conservatory of Music of America
from Sep. 27, 1892 to 1895. (It was at this
conservatory that Dvorak composed his
famous E Minor Symphony and subtitled
it From the New World.)
During this time, he penned down many
thematic notes in his sketch books, which
were later to be used in various compositions.
While in holiday in the summer of 1894,
in his summer home in Vysoká (Bohemia),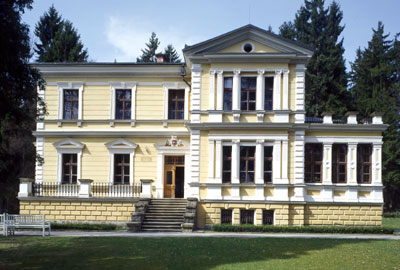 Dvorak's Summer Home
he worked out some of these American
influenced musical sketches into a cycle
shows this influence is the theme of the
Dvorak as "Hiawatha's Child Theme,"
Poco Andante
a piece he destined for an opera
on that never materialized.
Initially the composer considered naming
these "New Scotch Dances" (after an
eventually settled for the title Humoresques.
They were published as Op. 101 in
August of the same year by his
Berlin publisher

Fritz Simrock

.
The Humoresque No. 7 became
the most popular piece in the cycle
by far. It became so popular that the
publisher Simrock took advantage of the
opportunity, making vast amounts of money
on it, by publishing it separately in arrange-
ments for all possible instrumentations
including song versions arranged for
voice and choir with various lyrics.
Originally Dvorak intended the solo piano piece
to be, as its name indicated, of a light, humorous
character and as such the metronome tempo
marking was set for a quarter note=72, nearly
double as fast as it is now played in
At such a rapid tempo the composition failed at
first to attain any great fame. It was not until it
was arranged for the violin and the great
violinists began performing it slower, making a
dreamy adagio out of it (often playing it four in
a bar instead of two as written) that the music's
supreme beauty was fully recognized. By chang-
ing to the slower tempo (poco lento egrazioso,
which means "a little slow and graceful") the
entire character of the piece was striking
changed and became more effective.
Dvorak died in 1904 before his seventh
Humoresque in G-Flat Major had achieved this
world-wide popularity (none of the other
Humoresque pieces ever attained such special
notice) and it is doubtful if he ever had an idea
how successful this piece would became.
There are three fine arrangements of the
work for violin and piano, one by
http://www.free-scores.com/partitions_telecharger.php?partition=70140
one by Fritz Kreisler,
HUMORESQUE NO. 7
Fritz Kreisler Transcription
http://burrito.whatbox.ca:15263/imglnks/usimg/3/3c/IMSLP58691-PMLP22848-Dvorak_Rehfeld_Humoresque_Violin.pdf
An extremely easy edition for the violin
in the first position, which can be master
-ed by comparative beginners, has been
brought out by E. Haddock. There are
arrangements for the cello and piano, by
Leo Schrattenholz; for the organ, by
Edwin Lemare, and for small orchestra,
by Adolph Schmid (amongst many others).
Yo Yo Ma, Cello
Itzhak Perlman, Violin
The seventh Humoresque in G-Flat Major
has become one of the most popular
classical pieces in existence.
One writer even said:
"the seventh Humoresque is probably
the most famous small piano work ever
PARODIES AND TAKE-OFFS
ON HUMORESQUE
A happy tune it
Makes me smile
But lyrics ruin it
Just because you can don't mean you should
Every hack
Would take a whack
At writing words to Dvorak
And just like mine they're not so good…
of Broadway) and Mitchell Parish (Stardust)
tried their hand at gilding Dvorak's famous
tune. In the following they are hooked them
together to create a "Humoresque-athon.
MORE TAKE-OFFS
ON HUMORESQUE
The melody was also used as the theme
used Humoresque as the basis for a song
entitled Dvorak the Czechoslovak.
He's the famous Czechoslovak
Who sat down to write a song one day
But he needed inspiration
So Dvorak left his nation
First he worked in New York City
On a faculty committee
Of a musical academy
Then for summer holiday
He went to Spillville, Iowa
Here is this new land
Glorious and grand
Beautiful music filled the air
But to ramble and roam
So far from his home
So the story of Dvorak
Ends up when that Czechoslovak
Got back home and sat down at his desk
Traveling what had transpired
Musically he'd been inspired
So he wrote this song called Humoresque
More Funny Lyrics Added to
Humoresque No. 7
PASSENGERS WILL
PLEASE REFRAIN
From Oscar Brand Bawdy Songs (1956)
Bathrooms in trains used to empty right onto the tracks. It's not too
bad a technique if you are in the middle of cornfields and traveling
at 30 MPH. However, it is a major problem when the train is
sitting still at a heavily travelled station.