"Would I find this behavior
distracting
if it was practiced
by a person
sitting near me?"
HOW TO BE ANNOYING AT A CONCERT
FROM YOUR CLASSICAL MUSIC GUIDE
So, you're going to a concert. Would you like
to annoy the performer? Follow these simple
steps, and I guarantee you will frustrate the
audience too!
Difficulty Level: Easy
Time Required: 5 minutes preparation time
Here's How:
1. Arrive late. Don't wait until the current piece
is over: enter the hall in the middle of the piece
being played when you arrive. Choose a seat
at the front, in the middle.
2. Take along your cell phone. Set the ringer to
as loud as it will go. Arrange to have someone
call during the performance. Let it ring several
times, then pick it up and talk.
3. Buy individually wrapped candies. Put them
in the bottom of your purse. Wait until a quiet
part of the music, then take out the candy
(find it first), and open it.
4. Wear an electronic watch with an alarm, and
set it to go off every 15 minutes.
5. Rather than hold your program, place it
somewhere where it can be easily
blown/knocked to the floor.
6. Cough. Cough often. Cough during quiet parts.
Finally, have a candy (see #3).
7. Sing along.
8. Talk to your neighbor, preferably about
something unrelated to music.
9. Bring along several children (get them from
neighbors), and encourage them to cry, run up
and down the aisles, and climb up on the stage.
10. Leave early. Make sure you leave during the
middle of a piece. Especially effective when
combined with #1.
TIPS:
When buying tickets, you might want to consider
using an assumed name.
Be prepared with a comeback, should the performer
stop the performance and confront you publicly.
Want to be considerate? Venues are chosen and
designed to be ideal for acoustics as well as for
seeing the performers. If the person at the back
can see and hear the performers, he can see and
hear you too.
WHAT WILL NEED:
candies in plastic wrap
cell phone
5-10 children
wrist watch with alarm
running shoes
Hello everybody and welcome to our show
Before we begin there are some things you should know
It's all about concert etiquette
To help the performers so they won't get upset.
People have come from far and near
To see our show they want to watch and hear
During the show avoid disruptions
With needless talk or rude interruptions
Turn off any noise making devices
We do not need unexpected surprises
When you take a picture of your child
Do it respectfully and don't get wild
Some people are trying to videotape
Conversations we should not make
This room may look like a gymnasium
But today it's our performance auditorium
Please keep your children from running around
We don not need any extra sound
Babies sometimes scream and shout
Please feel free to take them out
Respect your neighbors and their space
Stay in your spot for that's the best place
Try not to clap or stomp your feet
Even if the music has a good beat
If we need your help we will give a shout
And tell you what it's all about
Booing and hissing are not permitted
Positive attitudes we are committed
Feel free to applause after the song
When showing appreciation you can't go wrong
Whistling and cheering can be too loud
And it can hurt the people you're around
If you need to leave early we can't imagine why
Do it quietly we hope you will comply
By having respect we can have a good time
Then we can enjoy our performance time
Here is one thing for you to remember
That will help you to be an audience winner
People are here to watch the performance
And not to be entertained by the audience.
Now I told you all you should know
So sit right back and enjoy the show!
LESSON PLAN

TEACHING OBJECTIVE
Students will demonstrate an understanding
of appropriate audience behavior in a
variety of settings.

PRE-ASSESSMENT
Ask students how they would
behave at a symphony concert.

TEACHING SEQUENCE
1. Ask students to describe places where
they were members of an audience.
a) Answers could include attending a movie,a theater, a sports
arena, at home watching television, a concert hall, etc.
b) List the answers on the whiteboard.
2. Discuss the appropriate audience
behavior for each of the settings
listed above.
For example:
a) How would audience behavior at a golf
tournament be different from a football game?
b) How would the audience behave at a rock
concert compared with a classical concert
or a recital by a single person?
3. Choose students to act as performers in at
least three of the settings listed above.
For example:
a) Students may pretend to be
playing a sport like golf or tennis.
b) They could pretend to be playing
instruments in an orchestra or a rock band.
c) Allow the students to perform while the rest
of the class pretends to be in the audience.
4. Before and after each performance:
a) Review with the class where they are pretending to be.
b) Help the class evaluate the appropriate
audience behavior for each location.
c) Point out that some behaviors that are fine in one
setting are considered inappropriate in another.
d) Ask performers if they felt that the audience's
behavior was appropriate for their performance and why.

CULMINATING ACTIVITY
1. Tell students that they will soon be going to a
concert where they will see an orchestra.
2. Help students create a rubric for correct
behavior at a symphony concert.
3. Have students use this list to evaluate
their behavior after the concert.

EVALUATION
Did student responses indicate an understanding
of the appropriate audience behavior as an
audience member in a variety of settings?
Audience Etiquette Writing Prompt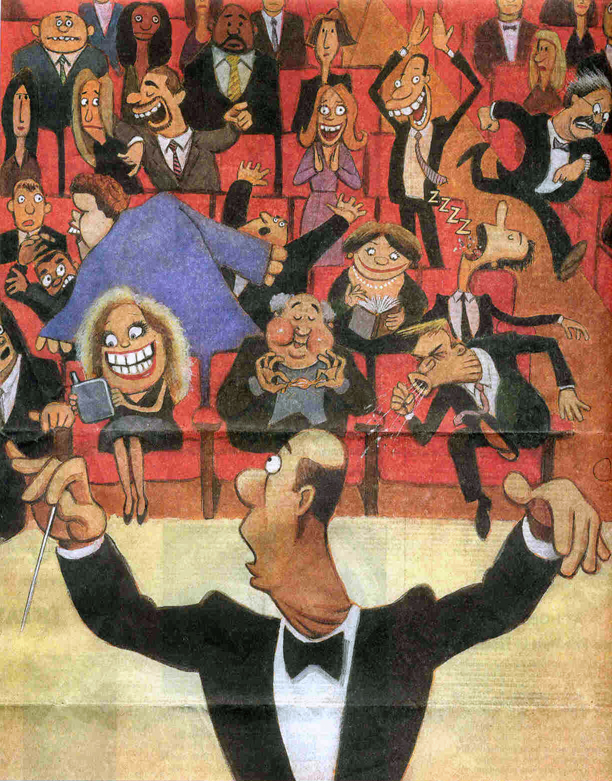 By Janet Gardner
1
When you go to a concert or go to a show,
there are just a few things you ought to know,

People have come from far and near
to a performance they want to see and hear.
Therefore, let us demonstrate
some concert etiquette to imitate.

The concert etiquette rap.
The concert etiquette rap.
A code of behavior and courtesy,
socially proper for you and me!
2
Rule number one:
please stay in your chair
so that people can see from everywhere.
Rule number two:
If your must go,
then wait till the song is done you know.
When you're ready to return just listen for applause,
now live and learn!

The concert etiquette rap.
The concert etiquette rap.
A code of behavior and courtesy,
socially proper for you and me!
3
When the concert starts keep your lips closed tight.
And don't be late, it is not polite.
Leave your cell phones in your cars.
Let those on stage be the stars.
Babies sometimes scream and shout,
so please feel free just to take them out.

The concert etiquette rap.
The concert etiquette rap.
A code of behavior and courtesy,
socially proper for you and me!
4
Drinks and snacks do not import to a concert hall.
(This is not a sport!)
Please sit tight till the concert's done.
Applause means "thanks to everyone!"
Now that you are in the know,
sit back, relax, and enjoy the show!

The concert etiquette rap.
The concert etiquette rap.
A code of behavior and courtesy,
socially proper for you and me!

The concert etiquette rap.
The concert etiquette rap. Yo!
POEM ON CONCERT ETIQUETTE
http://www.psnj.org/education/concert-guide/concert-etiquette-for-students/
Concert Etiquette for Students
What You Do At A Concert
by Dave Kimball
Be sure to arrive at the concert early
So you won't miss a beat,
The ushers will then give you a program
And show you to your seat.
The strings will make a peculiar sound,
While woodwinds make another.
Brass and percussion will do their own things.
Help! Someone get them together.
The concertmaster comes to the rescue
And helps the musicians to tune.
Then get ready to meet TC (The Conductor)
As he will be arriving soon.
Be considerate of other people around you,
Don't squirm, kick, laugh or eat.
But enjoy the music, the musicians and TC
While sitting quietly in your seat.
There may be times when the musicians will pause,
And you will not hear a sound.
But don't start to talk, or give them applause
Until TC turns around.
As TC turns and bows to the audience
Smiling as the concert ends,
He will leave the stage, and then appear
Giving thanks to each of his friends.
The Ten Commandments
of Concert Etiquette
1.
Thou shalt not arrive late
2.
Thou shalt applaud when
the conductor enters the stage.
4.
Thou shalt quickly remove
restless or crying children.
5.
Thou shalt govern thy children to stay
seated
and keep their feet from
kicking
the chairs of others.
6.
Thou shalt not unwrap and
eat candy during a performance.
7.
Thou shalt leave at home or
turn off
cell phones.
8.
Thou shalt return to thy seats
before the end of intermission.
9.
Thou shalt not applaud
between movements of symphonies
or other multisectional works
listed on the program.
10.
Thou shalt applaud
with
vigor at performance conclusion
CONCERT ETIQUETTE
FOR STUDENTS
1.

Refrain from talking.
The first and greatest rule. It also
includes whispering during the music.
2.

No singing, tapping fingers or feet.
The musicians do not need your help, and your neighbors need silence.
Learn
to tap your toes quietly inside your shoes it's a good exercise to reduce toe fat.
3.

Please have nothing in your mouth,
besides your teeth and tongue.
Gum and candy are not allowed.
4. Do not wear watches with
alarms nor jangle jewelry.
You may enjoy the sound, but the added
percussion
is disturbing to everyone around you.
5.

Do not open and close your purse
nor rip open your velcro wallet.
The best plan is to leave purses, etc.,
back at school or on the locked bus.
6.

Do not sigh with boredom.
If you are in agony, keep it to yourself. Your neighbor just
may
be in
ecstasy,
which should also be kept under control.
7.

Do not applaud between
movements (sections).
You may think the music is over, but it is not.
You don't want to be the only one clapping.
8.
Do not embarrass your teacher
nor your school.
Remember that you are representing your school, and you want to
be
on your best behavior. There are many eyes looking at you.
9.

Do not read nor play with
a
toy in your pocket.
To listen means just that. Use the time to turn on a "video
screen"
in your mind and create a story to the music.
10.

Do not go to the concert
thinking

you will hate the music.
You may be surprised millions of people all over the world enjoy
classica
l
music,
and if you give yourself a chance, you might, too!
CONCERT ETIQUETTE
FOR ADULTS
1. Refrain from talking.
This is the first and greatest rule. This rule includes
whispering to or discipling your other children.
2.

Refrain from unwrapping noisy candy
wrappers during the performance.
If the composer wanted to include crinkle paper noises to
the
music,
he/she would have written it into the parts.
3.
Turn off cell phones and watch alarms.
While many phones now have very symphonic-like rings, they don't always
fit into the musical score, nor do they provide pleasant sounds for your neighbors.
4.
Do not wave to your
child during the concert.
After all, they do know who you arealready and they know
you are there;
you most likely brought them to the concert.
5.
Do not take flash photography while
they are performing on stage.
You don't want your child to walk off the edge
off the stage from flash blindness, do you?
6.
Ple

ase do not walk down the center
aisle with your video camera.
Video cameras work just as well
from the back of the auditorium.
7.
Do not leave as soon as your child's
portion of the concert is over.
All of the students deserve a full audience for their performances.
Remember, the next time your child's song could be last!
8.
Applaud at the appropriate times.
Some music has several sections.
Remember, it's not
over
until all of the sections have been performed.
9.
Do not leave the auditorium
during the music.
Wait for a break in the concert to visit the restroom, unless you are
carrying a
screaming child, in which case you should leave quietly and quickly, PLEASE!
10. Go to the concert expecting the best.
You just might be surprised how good your student
sounds when the other students join in!
Dr. Tim Lautzenheiser discusses
the role of the
music educator in
teaching concert etiquette.
(MUSIC and LANGUAGE ARTS)
DISCUSS ABOUT AUDIENCE BEHAVIOR AT
DIFFERENT VENUES AND THE REASONS WHY
WRITE A PARAGRAPH OR
SHORT ESSAY TO THE QUESTION:
"HOW IS AUDIENCE BEHAVIOR DIFFERENT
AT A ROCK CONCERT WHEN COMPARED
TO A CLASSICAL CONCERT?"
2) EXPLAIN WHY WITH SUPPORTIVE EXAMPLES
EXAMPLE OF WHAT TO WRITE:
Audience behavior is different at a rock concert when
compared to a classical concert because acoustic
instruments (instruments which are not amped), as
those played in an orchestra, often cannot be heard
over a loud audience. Standing and singing
(participating with the performers) is acceptable at
rock concerts; it is part of the experience but at
classical performances it is about intense listening
and observers need to be very quiet. My preference
is the classical audience behavior as I enjoy being
able to see and hear everything being performed
DISCUSS THE IMPORTANCE OF
DISCUSS ABOUT HOW FORMAL AND INFORMAL
WRITING IS DIFFERENT AND USED
FOR DIFFERENT
SITUATIONS (EXAMPLE
TEXTING IS DIFFERENT
THAN WRITING