QUOTE:
"Jazz will endure just as long as people hear it through their feet instead of their brains."
AUTHOR:

John Philip Sousa
MEANING OF THE QUOTE:
"The style of jazz is meant to be felt through movement; that is what
attracts people to it."
COMPOSER
HILDEGARD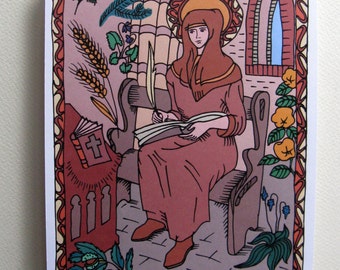 Canticle: A song or chant, especially a non metrical hymn with words taken from a biblical text other than from the Book of Psalms.
GRANADA ADV. STRINGS
1. D MAJOR SCALE (Sep Bows)
a. Advanced violins playing in the 4th position using finger pattern 1 2 34
2. PACHELBEL/JOLLY
INTRO. TO INSTRUMENT
1. Keyboards
a. Reviewed how to locate white key notes by musical alphabet on the keyboard
b. Discussed about proper fingering technique...
not using only one finger to play the notes of a song
c. Discussed planning which fingers are to be placed ahead of time on the proper keys before starting the song so that the players eyes can stay on the music not on the fingers
e. Students practiced BAG songs on the keyboard and when completed
tried to play other songs using more notes
f. Students ready to move ahead started to play songs using hand frames and finger numbers
1) America: a song using only the right hand
d. Students practiced at keyboards with teacher assistance
GRANADA BEG. STRINGS
1. Violin bow hold review
2. Bowing on shoulder reviewed
3. Feeling the spring of the bow reviewed
4. Tightening and loosing the bow
5. Rosining the bow
HILLVIEW ORCHESTRA
1. D Major Concert Scale slurring 2
2. PACHELBEL/JOLLY