QUOTE:
"Use the talents you possess, for the woods would be very silent if no birds sang except the best."
AUTHOR:
Henry Van Dyke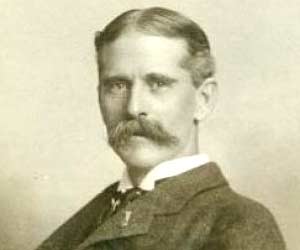 MEANING OF THE QUOTE:
"A person does not have to be a professional musician in order to experience the
joys of making music."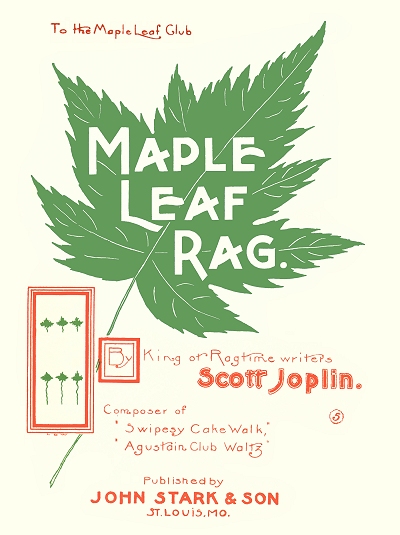 Written in 1899, although not the first rag written or published as Ragtime had been around for only a few years, the Maple Leaf Rag (also a favorite of President Theodore Roosevelt's daughter) became the first instrumental piece to sell over one million copies. (The Charles K. Harris song After The Ball from 1888 was the first million selling piece of sheet music, but Maple Leaf did it in a shorter amount of time, reportedly in less than a decade.) In the days before mainstream sound recording it was this best selling sheet music of

Scott Joplin

's which helped propel the popularity of the Ragtime style to move from the bars, where it originated, into respectable homes and public places.

Joplin named the rag in honor of the venue in which it was allegedly first heard (and one of the clubs where Joplin performed) by the white Sedalia businessman/music publisher John Stark, the Maple Leaf Club in Sedalia, Missouri (the probable source of the name followed the trend of naming organizations after trees in the area).

Before working for Stark Joplin encountered many rejections and was unable to make any substantial sales but after the piece was an instant success and its first printing of 10,000 copies sold out quickly (75,000 copies were sold within six months). More than half a million copies were sold by 1909. (All these sold without the promotional help of radio, television, or the internet which did not exist yet.) Stark and Joplin signed a contract and both moved to St. Louis, Missouri. There Stark
vigorously
promoted his client giving him the nickname "King of Ragtime." The financial success of the Maple Leaf Rag not only created a demand for more Joplin compositions but also enabled
Stark to open a music store and printing shop in St. Louis and then later New York.

There are many stories about how Joplin and Stark became associated as a result of this rag. Research done by a Joplin biographer, Ed Berlin, said that a young lawyer, a friend of Stark's son, who was running the Sedalia store, offered to help Joplin present the piece to the firm as well as draw up the paperwork. When Stark heard the piece he was impressed enough not only to take on the Maple Leaf Rag but to offer Joplin an unheard of royalty agreement as well (a one-cent royalty for each copy and ten free copies for his own use including an advance; an estimated $360 per year on this piece in his lifetime).
TESTING SCHEDULE DAY: 6TH and 7TH GRADES ONLY
GENERAL MUSIC
01. VIOLIN PARTS
.......a. REVIEW OF VIOLIN PARTS
02. VIOLIN LEFT HOLD and THE ROLE SHOULDER RESTS PLAY IN HOLDING THE VIOLIN
ADV. STRINGS
TESTING SCHEDULE DAY: 7TH GRADERS ONLY TODAY
SPRING CONCERT (THURSDAY; MAY 30TH) PREPARATION
JUNE 5th 5:00 PM (4:30 CALL TIME) DEDICATION FOR PATRICK'S GARDEN
VOLUNTARY PARTICIPATION TO PLAY "STAIRWAY TO HEAVEN"
01. PIRATES OF THE CARIBBEAN
BEG. STRINGS
TESTING SCHEDULE DAY: 6TH and 7TH GRADERS ONLY TODAY
SPRING CONCERT (THURSDAY; MAY 30TH) PREPARATION]
01. HOUDINI
02. PARADISE