QUOTE:
"Play the music, not the instrument."
AUTHOR:

Author Unknown
MEANING OF THE QUOTE:
"An instrument is just the mechanism for the music inside you."
ROSSINI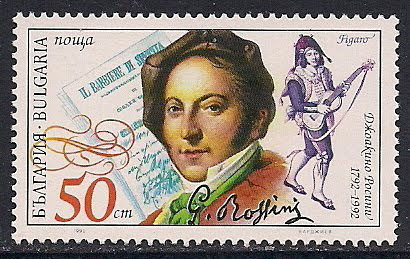 Cinderella by Burne-Jones
Following the success of

The Barber of Seville

the year before, Rossini wrote La Cenerentola, ossia La bontà in trionfo (Cinderella, or Goodness Triumphant), an

operatic

dramma giocoso in two acts, composed at age 25 (a fairly early work for Rossini) and completed it in a period of three weeks. In it he borrowed (Rossini, like Handel, had no qualms about re-using his own material for different occasions) the overture from an earlier failed 1816 opera, La gazzetta (The Newspaper), as there was no time to write a new one before the opera's premiere. Nonetheless, the spirit of the overture seems appropriate to Cenerentola. The

libretto

was written by Jacopo Ferretti and based on the fairy tale Cendrillon by

Charles Perrault

. The opera, first performed in 1817, proved an instant success.
The librettist somewhat changed the well-known fairy tale Cinderella story from the way most of us know it. There are no magical aspects to it; the matching of a bracelet replaces the fitting of a glass slipper, the Prince's tutor (Alidoro, a kindly philosopher) takes the place of the fairy godmother, and the Prince engages in an identity switch with his valet, but the essence of the story is still the same.
The overture, though lesser-known, is full of humor and surprises and is one of his finest, sparkling with vitality. It opens with an extended slow introduction (characteristic of Rossini's overtures) in the first measures to establish the tonality, where a questioning bassoon solo is interrupted by assertive crashing tutti chords for full orchestra, followed by a languid melodic answer on the clarinets (sort-of a comic conversation between different instruments of the orchestra.). The introduction gives way to a melodramatic, gravid transitional period with a hint of military music before more grand chords herald the fast allegro vivace section (a brisk, light-hearted melody full of charm and bounce). A pensive answer in the minor mode is followed by a lightning return to the major with a little hesitant song in the clarinet soon returning with a little more confidence and bravura leading into the extended crescendo (a Rossini trademark where the music gradually gets louder and louder until it reaches a jubilant climax). A very short modulation leads back to the home key and a restatement of the opening passage (the whole thing is repeated, with adjustments). A sudden harmonic leap seems about to take us far from home, but it is only a momentary. The little hesitant song (now entrusted to the flute) and a return of the crescendo bring the overture to its whirlwind conclusion.
The original scoring of the overture is pairs of woodwinds, horns and trumpets, a trombone, and the usual strings. Surprisingly, there are no parts for timpani or percussion. Some were added later by other hands, but without Rossini's approval. Since the overture bears no connection, musically or dramatically, with the opera to follow, there is no need to discuss how Ferretti's libretto diverges from the traditional fairy tale or to place the opera in Rossini's stylistic development.
View a study guide:

http://www.pov.bc.ca/pdfs/cinderella_study_guide.pdf
LINKS
http://classicalmusic.about.com/od/opera-synopses-l-thru-z/qt/La-Cenerentola-Synopsis.htm
http://www.metoperafamily.org/metopera/history/stories/synopsis.aspx?customid=36
http://jsundram.freeshell.org/ProgramNotes/Rossini_OvertureC.html
http://www.artsalive.ca/collections/nacmusicbox/chronologique-timeline/index.php/en/html/vue-view/117
http://www.sgvmedia.com/Pasadenasym.com/pn_jan20.html
http://www.auburnsymphony.com/2011/01/rossinis-overture-la-cenerentola-cinderella-steven-vanhauwaert/
http://en.wikipedia.org/wiki/La_Cenerentola
https://rockfordsymphony.com/experience/1112/31012notes.asp
http://www.brevardphilharmonic.org/YoungProdigy.html
TESTING DAY-AMENDED TEACHING SCHEDULE
GENERAL MUSIC:
PERIOD 3
01. WRITING A CRITIQUE FOR THE MUSICAL "MY FAIR LADY"
.......a. DISCUSSION OF HOW TO WRITE THE CRITIQUE
............1)
STUDENTS TO WRITE A PARAGRAPH ON THEIR
PERSONAL ENJOYMENT FACTOR and EXPLAIN
WHY
(TRYING TO CONVINCE THE READER OF THE POINT OF VIEW BEING GIVEN)
............2)
STUDENTS TO WRITE A PARAGRAPH ON THEIR OPINION REGARDING THE ARTISTRY and EXPLAIN
WHY (TRYING TO CONVINCE THE READER OF THE POINT OF VIEW BEING GIVEN)
............3) ARTISTRY IS ABOUT THE QUALITY OF THE ART WHICH DOES NOT ALWAYS EQUATE TO
..................a) THERE ARE MANY ASPECTS TO APPRECIATING ART; A PERSON CAN RECOGNIZE THE TALENT IT
TAKES TO PRODUCE THE ART BUT STILL NOT LIKE IT or VICE-VERSA THAT IS WHY THE
CRITIQUE IS BEING WRITTEN IN TWO SECTIONS
02. STARTED VIOLIN PARTS
........a. BOW
..............1) PARTS OF BOW (FROG/SCREW, STICK, TIP, HORSE HAIR, PADDING and/or SILVER WRAPPING
..............2) ROSIN FOR THE BOW (DRIED TREE SAP)
..............3) HOW A BOW IS REHAIRED
..............4) SHAPE OF THE EARLY BOW VERSUS THE MODERN DAY ONE
ADV. STRINGS
01. HOUDINI
02. CABALITO
03. LOS MACHETES
04. VOLVER, VOLVER
05. SABOR A MI
PASSED OUT CONCERT DATE REMINDER FLIERS TODAY
THURSDAY NIGHT, MAY 30
TH
2013
PERFORMANCE TIME: 6:00 PM
CALL TIME (WHEN PERFORMERS ARE TO ARRIVE FOR TUNING AND WARMING-UP): 5:15 PM
GRANADA MIDDLE SCHOOL CAFETORIUM
CONCERT
DRESS FOR MISS JACOBSON'S CLASS:
DARK PANTS (OR DARK SKIRTS FOR GIRLS)
PURPLE TIES WILL BE PROVIDED
MUSIC ORDER
FOR MISS JACOBSON'S CLASS:
SOMEBODY I USED TO KNOW (BOW LEADER: Alicia Boochie)
PARADISE (BOW LEADER: Sarah Palos)
YOU'VE GOT A FRIEND IN ME (BOW LEADER: Amrie Blancas)
WHAT MAKES YOU BEAUTIFUL (BOW LEADERS: Amri Blancas and Sarah Palos)
HOUDINI (BOW LEADER: Bryana Chaves)
ORANGE BLOSSOM SPECIAL (BOW LEADER: Edwin Hernandez)
PIRATES OF THE CARIBBEAN (
BOW LEADER:
Tyler Costello)
MY HEART GOES ON (BOW LEADERS: Amri Blancas and Bryana Chaves)
STAIRWAY TO HEAVEN (BOW LEADERS: Tyler Costello and Carmela Rimmer)
LOS MACHETES (BOW LEADERS: Tyler Costello and Bryana Chaves)
SABOR A MI (BOW LEADER: Kaelyn Rojas)
VOLVER, VOLVER (BOW LEADERS: Alicia Boochie and Carmela Rimmer)
All students ar
e required to attend as this is a requirement of the class. All students will receive a final grade for the performance.
PATRICK EVERLY GARDEN DEDICATION CEREMONY
VOLUNTARY
PARTICIPATION FOR PERIOD 4 STUDENTS
TO BE HELD IN FRONT OF MRS. RODRIQUEZ'S ROOM
CALL TIME: 4:30 PM (FOR SET-UP and TUNING)
We will be performing "Stairway to Heaven"