QUOTE:
"Do not take up music unless you would rather die than not do so."
AUTHOR:

Nadia Boulanger
MEANING OF THE QUOTE:
"A true musician must be willing to give up everything for his art"
COMPOSER
CHOPIN
Prelude Op.28 No.15
"Raindrop"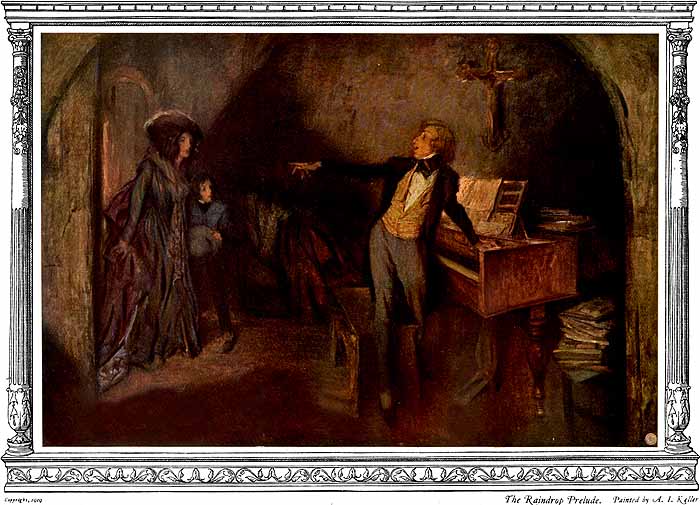 A I Keller, "Chopin, The Raindrop Prelude" (1919)
Steinway
INTRO. TO INSTRUMENT
ALLEY CAT PERCUSSION ORCHESTRATION and PERFORMANCE
a. REVIEW INSTRUMENT NAMES
1) GO OVER and REVIEW (AS NEEDED) HOW TO ORCHESTRATE PERCUSSION INSTRUMENTS
2) ASSIGN COLORS ON THE CHARTS TO DIFFERENT INSTRUMENTS
3) STUDENTS COUNT OUT LOUD and PLAY THE INSTRUMENTS ASSIGNED THAT MATCH THE COLORS
.4) STUDENTS PERFORM TO THE RECORDING
5) AFTER
COMPLETION
STUDENTS SWITCH INSTRUMENTS TO TRY ANOTHER
b. Locating musical alphabet notes on the keyboard starting with "D"
c. Finding notes B-A-G to play "mary" on the keyboard
GRANADA BEG. STRINGS
1. Shoulder rest and left violin hold and proper violin angle
a. PLACEMENT OF SHOULDER REST ON THE VIOLIN FOR COMFORT
b. EXPLANATION ON WHY THE BOW IS NOT TAUGHT UNTIL AFTER THE LEFT
c. VIOLIN HOLD TECHNIQUE IS MASTERED
d. HOW IMPROPER LEFT VIOLIN HOLDS
EFFECT THE BOW
e. VIOLIN ANGLE TO BE DETERMINED FOR EACH PLAYER
AS TO PLACEMENT OF
THE ARM UNDER THE VIOLIN
2. Left pizzicato introduction
ESTABLISHING THE PROPER VIOLIN LEFT ANGLE THROUGH
LEFT
HAND
PIZZICATO
PIZZICATO (OFTEN SHORTENED TO "PIZZ.")
IS AN ITALIAN TERM MEANING "TO PLUCK" THE STRING
a. LEFT THUMB PLACED AT THE CURVE OF THE VIOLIN NECK (CALLED THE 5TH
POSITION) IN A BACKWARDS "C" POSITION
b. USING THE PAD OF THE 1ST (LEFT INDEX) FINGER DEPRESS EACH STRING
(STARTING WITH "E") 8 TIMES AS IF YOU WERE DEPRESSING A BUTTON OF A DOORBELL THUS CREATING A SPRING WITH THE FINGER ON THE STRING
c. REPEAT THE SAME AGAIN USING THE 2ND FINGER, THEN THE 3RD, and
LASTLY THE 4TH
1) IF THE LEFT ARM, WHICH IS UNDER THE VIOLIN, IS IN PAIN ADJUST THE
VIOLIN ANGLE
2) IF THE ARM ACHES (THE A MUSCLE IS BUILDING) GIVE THE ARM A
LITTLE REST
d. REDO THE EXERCISE AGAIN ONLY THIS TIME AFTER DEPRESSING THE
STRING EACH TIME,
TO CREATE THE PIZZICATO PULL THE STRING TO THE RIGHT
(TO THE RIGHT MEANING FROM THE VIOLINIST'S PLAYING POSITION WHILE LOOKING TOWARD THE SCROLL)
1) BE SURE TO DEPRESS (FEEL) THE STRING BEFORE PULLING IT EACH TIME
HILLVIEW ORCHESTRA
1. Concert D Major Scale to the rhythm of Jingle Bell Rock we worked on yesterday
a. Played the entire rhythm on one pitch of the scale then repeated again on the next one, etc.
b. Students worked on phrasing (breathing) and articulation of sound
a. Tried to read throught the entire piece without stopping at performance tempo
b. Reviewed the beginning