QUOTE:
"Achievements, seldom credited to their source, are
the result of unspeakable drudgery and worries."
AUTHOR:

Richard Wagner
MEANING OF THE QUOTE:
"The audience rarely knows of all the time and
effort that goes
into the production of an art form."
PRELUDE OP. 28, NO. 7
IN A MAJOR
Victor Merzhanov, Piano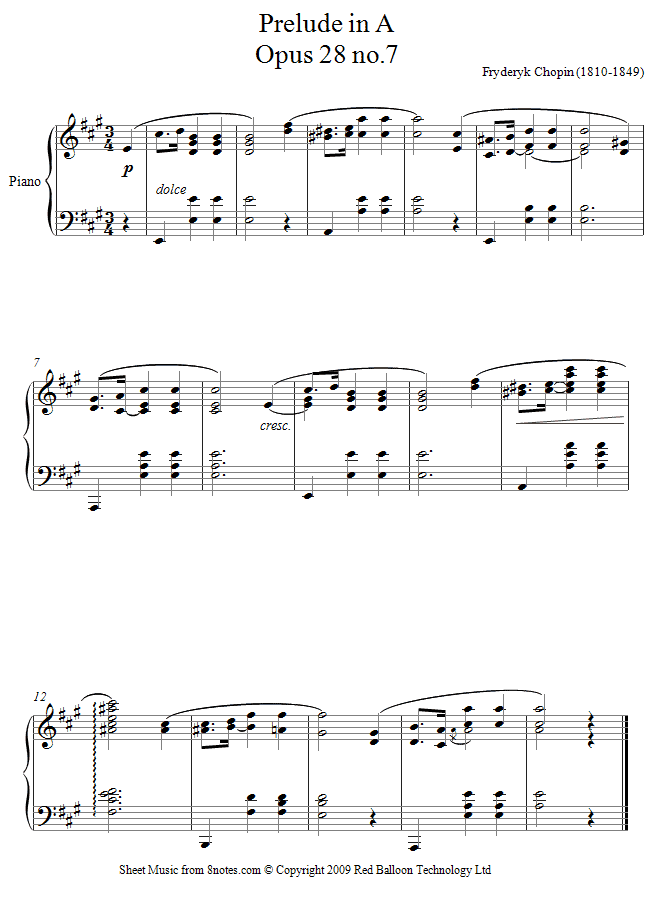 PRELUDE OP. 28, NO. 7
PRELUDE OP. 28, NO. 7
IN A MAJOR
from Beethoven's Wig,
LYRICS
My mother was a fan
Of music by Chopin
She played the piano
While we sat on the divan
On Sunday afternoon
I still recall the tune
A prelude by Chopin
It ended far too soon
This is a short piece of music, the form
of which may vary from piece to piece.
It may be thought of as a preface. It may
stand on its own or be an introduction
to another work.
This is a term that refers to a convenient
method of numbering a composer's works
where a number follows the word "opus"
("OP" for short) as in the example:
Opus 28, No. 7.
GRANADA ADV. STRINGS
01. JINGLE BELL ROCK
a. INTRODUCTION TO LEARNING THE TUNE and REVIEW OF CLASS BEHAVIOR EXPECTATIONS
"DISCIPLINE ROCK" IS A PIGGY BACK SONG I CREATED TO THE TUNE OF "JINGLE BELL ROCK"
Discipline, discipline, discipline rock
Discipline move and discipline groove
Listening, focusing, and sitting still
Are requirements we need to fill
Discipline, discipline, discipline rock
Discipline move and discipline groove
You'll find success when you master these things
And the happiness they bring
TIme we save when we behave
Allows for more to get done
Let's tow the line so we can do very fine
And play our music and have a lot of fun
Discipline, discipline, discipline rock
Discipline move and groove
You'll find success when you master these things
And the happiness they bring
Discipline, discipline, discipline rock
Discipline move and discipline groove
Raising your hand and staying in your seat
Shows respect to all the others we meet
Discipline, discipline, discipline rock
Discipline move and discipline groove
Caring and sharing makes life worthwhile
And the experience makes you smile
TIme we save when we behave
Allows for more to get done
Let's tow the line so we can do very fine
And play our music and have a lot of fun
Discipline, discipline, discipline rock
Discipline move and groove
You'll find success when you master these things
And the happiness they bring
b. JINGLE BELL ROCK RHYTHMS:
WE REVIEWED THE BASIC RHYTHMS OF THE MUSIC
AND COUNTED
THE TWO LOWER RHYTHMIC PATTERNS SEPARATELY
AGAINST THE RECORDED ACCOMPANIMENT
USING BODY PERCUSSION
(LATER WE WILL USE PERCUSSION INSTRUMENTS)
AFTER EVERYONE LEARNS ALL THE RHYTHMS THE INSTRUMENTS WILL BE USED TO PLAY THE MUSIC
a. DEMONSTRATION ON HOW TO LISTEN TO SILENCE
(STUDENTS WROTE DOWN ALL THEY HEARD WHILE HAVING 2 MINUTES OFSILENCE)
b. DISCUSSION OF JOHN CAGE and AMBIENT MUSIC
02. PERCUSSION INSTRUMENTS STARTING TO BE INTRODUCED
The Baroque Violin and the Modern Violin: Similar, but very Different
HILLVIEW ORCHESTRA
STRING INSTRUMENTS TO BE CHECKED OUT ON TUESDAY DURING LUNCH
02. COUNTING REVIEW: QUARTERS and EIGHTHS (IN PAIRS)
b. CLASS SIGHT READ THE COUNTING BY CLAPPING TO THE RHYTHMS AGAINST A RECORDED ACCOMPANIMENT
c. REVIEWED ALL THE RHYTHMS and SOME OF THE DIFFERENT METHODS THAT CAN BE USED TO COUNT
d. EXPLAINED HOW TO SPLIT THE QUARTER BEAT IN HALF USING BODY PERCUSSION
e. READ THROUGH THE RHYTHMS AGAIN FIRST WITH TEACHER TRACKING HELP THEN WITHOUT IT
f. RE-DID THE EXERCISE AGAIN USING RED and BLACK COLORED NOTES REPRESENTING THE USE OF LEFT and RIGHT HANDS
g. ASKED STUDENTS TO ASSESS WHY LEFT/RIGHT PATTERNS OF THE SAME RHYTHMS WERE MORE DIFFICULT TO PERFORM ESPECIALLY IN CERTAIN SECTIONS OF THE MUSIC