QUOTE:
"Art is a kind of illness."
AUTHOR:
Giacomo Puccini
MEANING OF THE QUOTE:
"A true artist is addicted to his art."








COMPOSER
SEE HOW
MUSIC AND LITERATURE
INTERCONNECT
Charles Ives came from New England
and often wrote his music about the
famous people and events
that came from there.
The Old North Bridge: Concord, Massachusetts
The four movements of the Concord Sonata
are titled "Emerson," "Hawthorne," "The Alcotts,"
and "Thoreau" after four famous American authors
Ives did not originally conceive the
Concord Sonata as a four-movement work for
solo piano but rather as four separate orchestral
works, part of a collection he had dubbed
Emerson, Hawthorne, Thoreau,
and the Alcotts all lived near each other in
Concord, Massachusetts and espoused
in their writings.
They were all buried at what is called
PIANO SONATA NO. 2
"CONCORD"
Complete
The sonata is built on two motifs.
One, epic in nature, consisting of three
repeated notes and a drop of a third
to the fourth note; similar to
the opening motif of Beethoven's
Fifth Symphony.
BEETHOVEEN SYMPHONY NO. 5
Arturo Toscanini, Conductor
"Ives drew a connection between the philosophy
of Emerson and the compositions of Beethoven,
ending his Essay on Emerson by writing: There
is an 'oracle' at the beginning of the Fifth
Symphony—in those four notes lies one of
Beethoven's greatest messages. We would
place its translation above the relentlessness
of fate knocking at the door...and strive to bring
it toward the spiritual message of Emerson's
revelations—even to the 'common heart' of
Concord— the Soul of humanity knocking at
the door of the Divine mysteries, radiant in
the faith that it will be opened—and that
the human will become the Divine."
The second motif is lyrical and moves mostly
in conjunct motion. There is usually some
interweaving of the two, whenever they appear.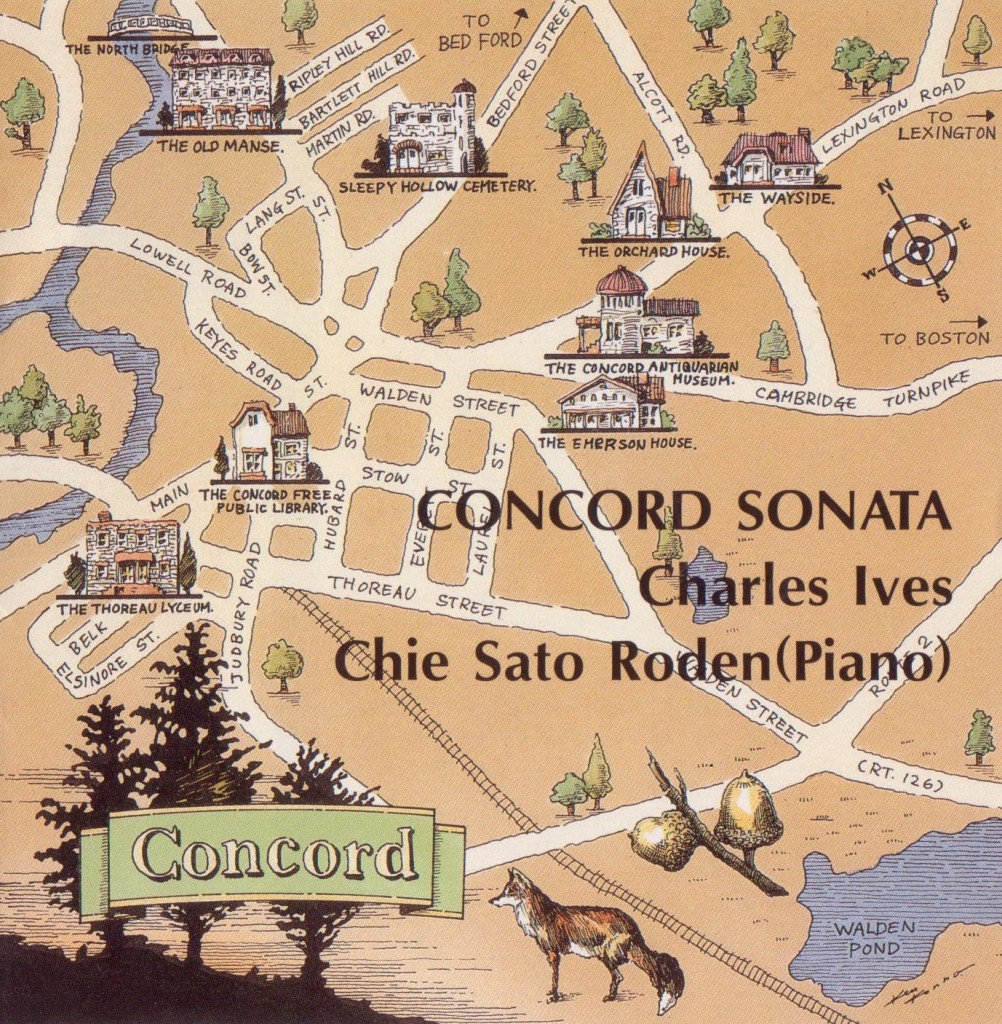 PIANO SONATA NO. 2
"CONCORD" II: HAWTHORNE
John Kirkpatrick, Piano
The Orchard House: Alcott's Home
PIANO SONATA NO. 2
"CONCORD" III: THE ALCOTTS
John Kirkpatrick, Piano
PIANO SONATA NO. 2
"CONCORD" III: THE ALCOTTS
Charles Ives, Piano
Charles Ives begins this piece with a
4-note motive (as Beethoven does in his
5th Sympony)
and then uses it, often
in variation, as the basis for the rest
of the composition.
Compare the introduction of Ives' piece
with the beginning of "Every Little Kiss"
by Bruce Hornsby and the Range.
The melody of the song is based on the
introduction which was borrowed from Ives.
EVERY LITTLE KISS
Bruce Hornsby and the Range
CLASSES WATCHED THE START OF THE MUSICAL "OKLAHOMA"