QUOTE:
"He who joyfully marches to music in rank and
file has already earned my contempt. He has
been given a large brain by mistake, since for
him the spinal cord would fully suffice."
AUTHOR:
Albert Einstein
(John William Sublett 1902–1986)
The "Father of Rhythm Tap," Bubbles was the first
tapper to drop his heels, adding complex rhythms
and syncopations to his routines by creating off-beats,
altering accents, phrasing, and timing while
simultaneously projecting an easy nonchalance. He
was also George Gershwin's personal choice to play
"Sportin' Life" in Porgy and Bess.
THE MAKING OF PORGY AND BESS
The Original Live Play, 1935
According to the usual practice for
musicals, Porgy and Bess was given
a tryout performance in Boston before
settling in on Broadway, though the
cast did give an un-staged run-through
first. Reaction to these preliminary
performances was everything they could
have hoped for. One Boston reviewer
"…has traveled a long way from Tin Pan Alley.
Tin Pan Alley and Gershwin
He must now be accepted as a serious composer."
There had been some rumors of a place for
Porgy and Bess at the Metropolitan Opera,
but when it was produced in New York it was
Broadway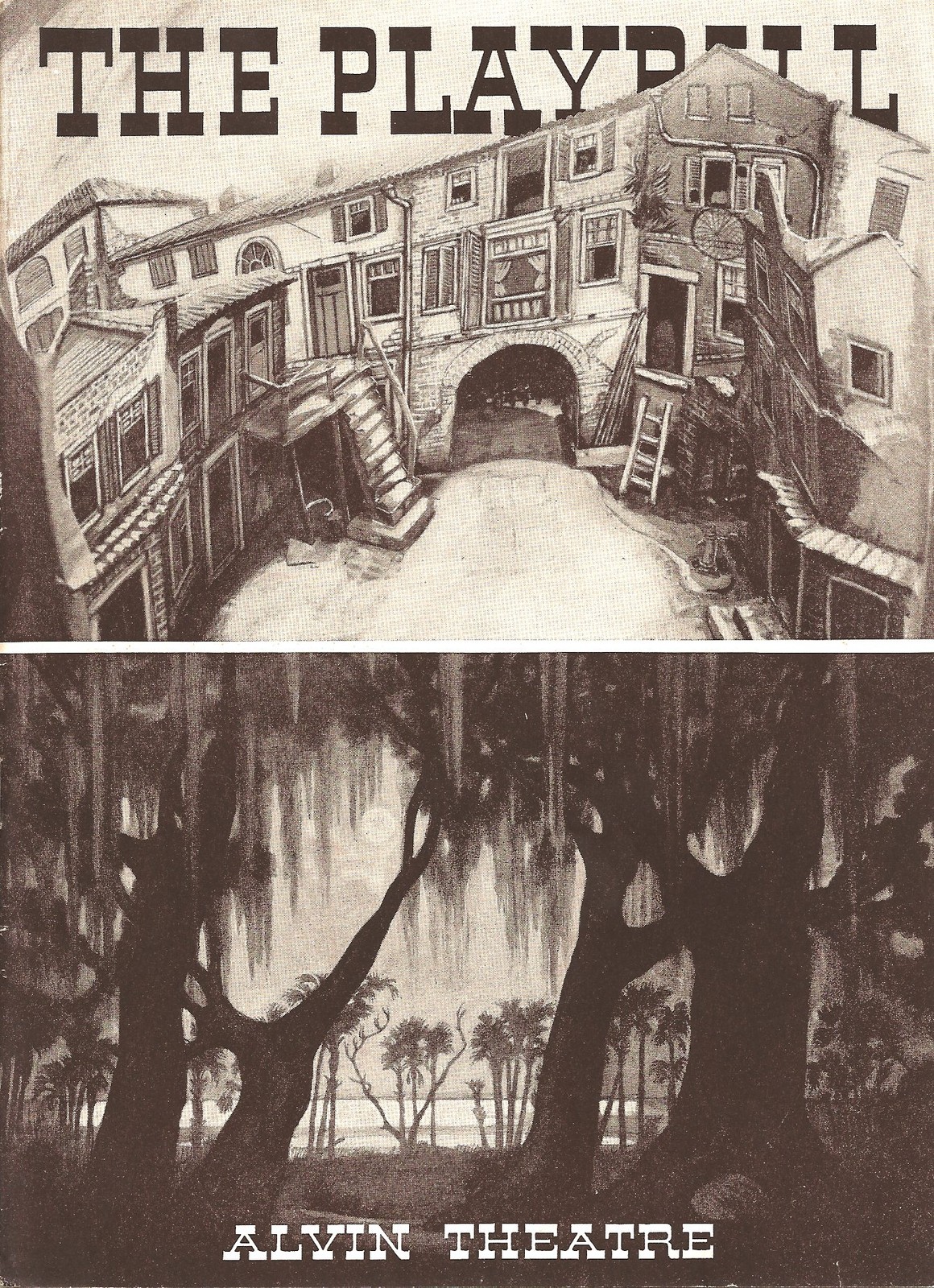 where it opened on October 10.
Porgy and Bess Curtain Call at Alvin Theatre, 1935
The New York audience was just as
enthusiastic as the Boston audience
had been, but the reviews ran from
lukewarm to savage: the "Kiss of Death"
for a Broadway production. Porgy and
Bess closed after a respectable, but
hardly profitable run of 124 performances.
Though several of the individual songs
quickly became well-known, Gershwin
did not live long enough to see his proud-
est creation universally acclaimed as one
of the masterworks of American music.
Gershwin seems to have been a bit
uncomfortable about Porgy and Bess's
"operatic" nature: he described it as
"folk opera." Several critics charged that
Gershwin had simply created a somewhat
dressed-up and pretentious Broadway
show, grouped around a series of popular-
style songs. Gershwin answered by stating:
"It is true that I have written songs [as
opposed to arias] for Porgy and Bess. I am
not ashamed of writing songs at any time so
long as they are good songs."
His use of recitative and his sophisticated
use of the orchestra were certainly closer
to the operatic world than anything else on
Broadway at the time. Like Bernstein's West
Side Story some twenty years later, Porgy
and Bess is a masterful blend of both traditions.
The most often-heard orchestral versions
of

Porgy's

music were prepared after
Gershwin's death by his longtime
collaborator and great
Broadway/Hollywood
orchestrator, Robert Russell Bennett
who, by 1956, had

prepared the standard
concert version, "
Porgy and Bess: A
Symphonic Picture"

(1943) where he leaves
Gershwin's score largely intact, bringing
together the most popular moments of Porgy
and Bess with a few connective
PORGY AND BESS:
A SYMPHONIC PICTURE
(Gershwin's good friend and sometimes assistant)
Fritz Reiner, Conductor
Pittsburgh Symphony, 1945
that were used in this arrangement
are as follows:
Scene in Catfish Row (with peddlers' calls)
"I Got Plenty o' Nuttin'" (
9:08
)
"Bess, You Is My Woman Now" (
12:03
)
"There's A Boat That's Leavin' Soon For New York" (
17:55
)
"It Ain't Necessarily So" (
20:40
)
Finale ("O Lawd, I'm On My Way") (
22:24
)
This is the only recording that Fritz Reiner made
of this well-known arrangement by Robert Russell
Bennett, which was prepared in 1942 at Reiner's
instigation. Bennett writes, in a quote extracted
from the liner notes for this album, that
"Dr. Reiner selected the portions of the opera that
he wanted to play and also set the sequence of the
excerpts. He expressed his ideas as to instrumentation,
wishing to make generous use of saxophones and
banjo, and to dispense with Gershwin's preferred
"I proceeded not only to follow Dr. Reiner's ideas
faithfully, but also to remain completely loyal to
George's harmonic and orchestral intentions.
In other words, although carrying out Dr. Reiner's approach, I
have been careful to do what I knew - after many
years of association with Gershwin - Gershwin would
like as a symphonic version of his music."
Bennett later

created another version

called
"Porgy and Bess:

Selections for Orchestra"

in 1962.
Gershwin himself prepared a
"Suite from Porgy and Bess"

in 1935
(later retitled

Catfish Row

by Ira,
probably to avoid confusion with
Bennett's "

Symphonic Picture"

).

It was
premiered in Philadelphia in January
1936, and prior to his death in 1937,
there were nearly 40 performances of
the piece, most of them conducted by
It was rarely performed for two decades
after the composer's death, but in 1958,
it was "found" in Ira Gershwin's library,
and eventually gained a place in the
repertoire next to Bennet's versions.
Leipzig Gewandhaus Orchestra
Catfish Row

is a fairly straightforward
series of excerpts directly from the
score organized into five movements,
with vocal lines given to various
instruments in the orchestra. The
opening movement, "

Catfish Row

,"
includes the overture and first scene,
with part of the "Jasbo Brown Blues"
for solo piano, and the song
"Summertime," sung first by solo
violin, then by oboe, and concluding
with a brief, newly-composed tag.
Porgy Sings

includes Porgy's two big
moments from Act II, first "I Got Plenty
O' Nuttin'" recast as a jaunty banjo solo,
and then the passionate "Bess You Is
My Woman Now" played by strings.
The furious music of the "

Fugue"

first
appeared in Act I, as Crown and
Robbins fight, but later accompanies
the climactic fight between Porgy and
Crown in Act III.

The music of
"Hurricane"

comes from the end of Act II,
with a lyrical English horn solo and a
sense of increasing tension giving way
to the ferocious music of the storm.
Joseph Delaney: City Life (1938) This art is sometimes paired
with "Hurricane" from Gershwin's Catfish Row Suite
The conclusion, "

Good Mornin' Sistuh

,"
is the opera's conclusion as well,
with versions of "Good Mornin' Sistuh,"
"Sure to Go to Heaven," and Porgy's
concluding song with chorus,
"Oh Lawd I'm On My Way."
THE SIGNIFICANCE OF
PORGY AND BESS
Short Discussion by
Conductor Bramwell Tovey
MAIN CHARACTER ROLES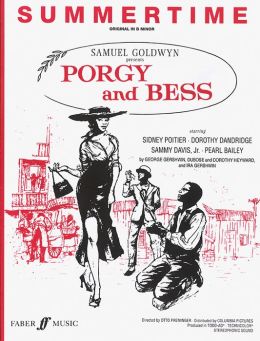 SUMMERTIME
Anne Brown and Todd Duncan, Vocalists
SUMMERTIME
Louis Armstrong and Ella Fitzgerald, Vocalists
shooting craps, and he takes
the baby and sings his own
sarcastic lullaby, A woman is
a sometime thing. Tempers flare
at the game, and a fight between
Crown and Robbins ends in
Robbins's death. Crown and his
girlfriend Bess go into hiding. The
only person on Catfish Row who
will take Bess in is Porgy, who
secretly loves her. The next scene
is in the home of Serena, Robbins's
widow, where mourners are paying
their respects (Gone, gone, gone).
GONE, GONE, GONE
Sir Simon Rattle, Conductor
London Philharmonic Orchestra
There is a conflict between Serena
and Bess, who shows up with Porgy.
When Porgy urges everyone to help
the widow, the mourners sing
OVERFLOW, OVERFLOW
trying to drum up more money for the
collection plate. After a detective arrives
to investigate the murder, Serena sings
a heartfelt lament about her husband's
death, My man's gone now.
MY MAN'S GONE NOW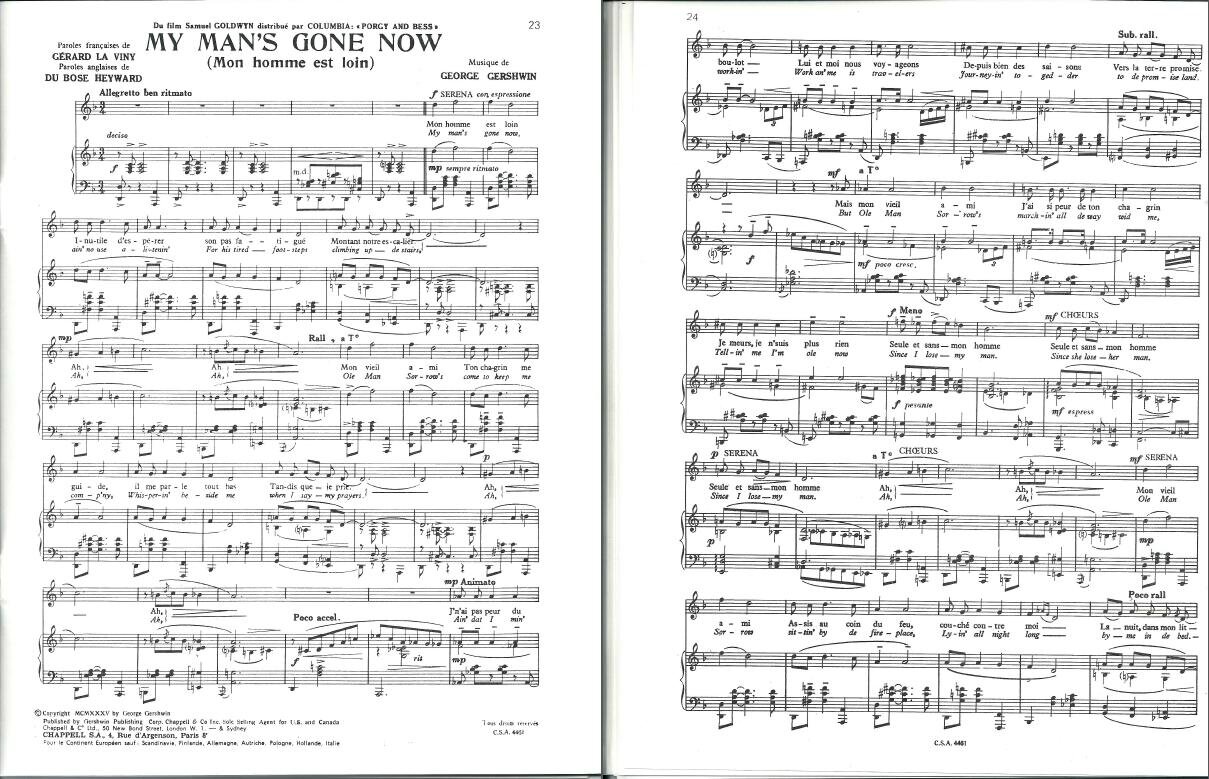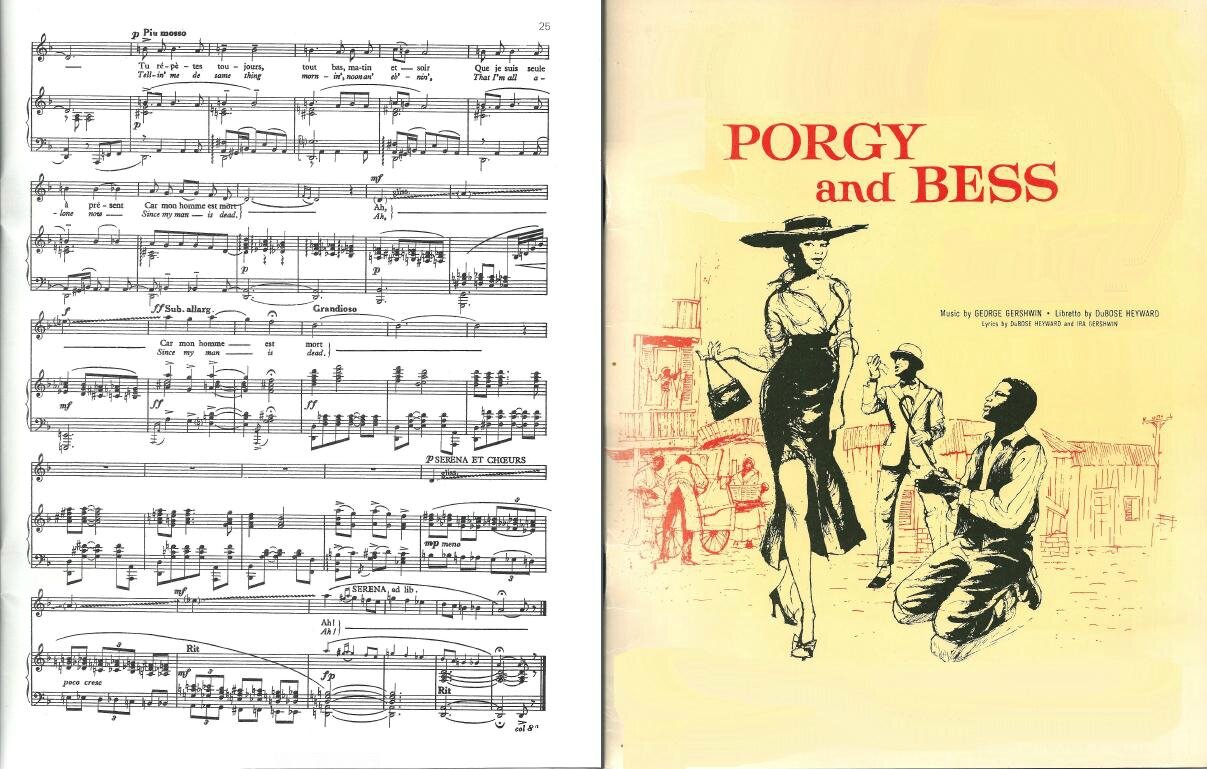 http://accordeonduriche.canalblog.com/archives/2012/12/16/25723331.html
The act closes as Bess leads the
community in a spiritual,
LEAVING FOR THE PROMISE LAND
Cynthia Haymon, Vocalist
Sir Simon Rattle, Conductor
London Philharmonic Orchestra
ACT II
Act II begins with preparations for a
church picnic, and Porgy cheerfully
singing I got plenty o' nuttin'
Leo Reisman with Edward Matthews, Vocals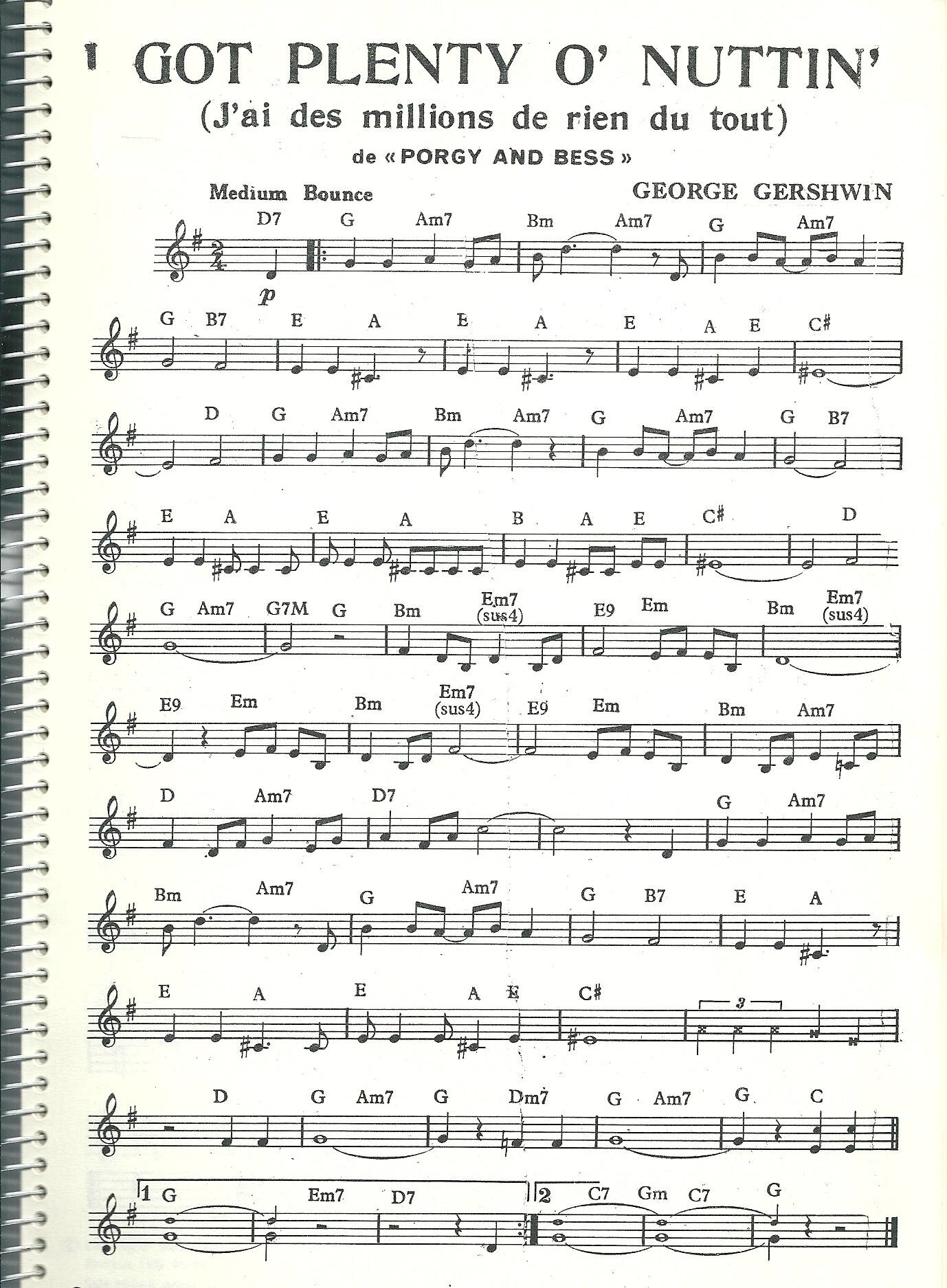 http://accordeonduriche.canalblog.com/
archives/2013/02/22/26443825.html
Sporting Life, a pimp and cocaine
pusher shows up, and tries to
convince Bess to come to New
York with him. Porgy overhears
and chases Sporting Life away,
and then he and Bess sing the
opera's great love duet, Bess,
BESS, YOU IS MY WOMAN NOW
Todd Duncan and Anne Brown, Vocalists
http://accordeonduriche.canalblog.com/archives/2012/11/25/25652626.html
BESS, YOU IS MY WOMAN NOW
Leontyne Price and William Warfield, Vocalists
Everyone on Catfish Row except
Porgy, who cannot make the trip,
for the picnic, and the community sings
and dances to a couple of spirituals,
OH, I CAN'T SIT DOWN
Sir Simon Rattle, Conductor
London Philharmonic Orchestra
and I Ain't got no shame.
I AIN'T GOT NO SHAME
http://accordeonduriche.canalblog.com/archives/2012/12/11/25794169.html
Sporting Life then puts a damper on
the party when he makes fun of their
beliefs in the brilliantly sarcastic
IT AIN'T NECESSARILY SO
http://accordeonduriche.canalblog.com/archives/2012/12/11/25794169.html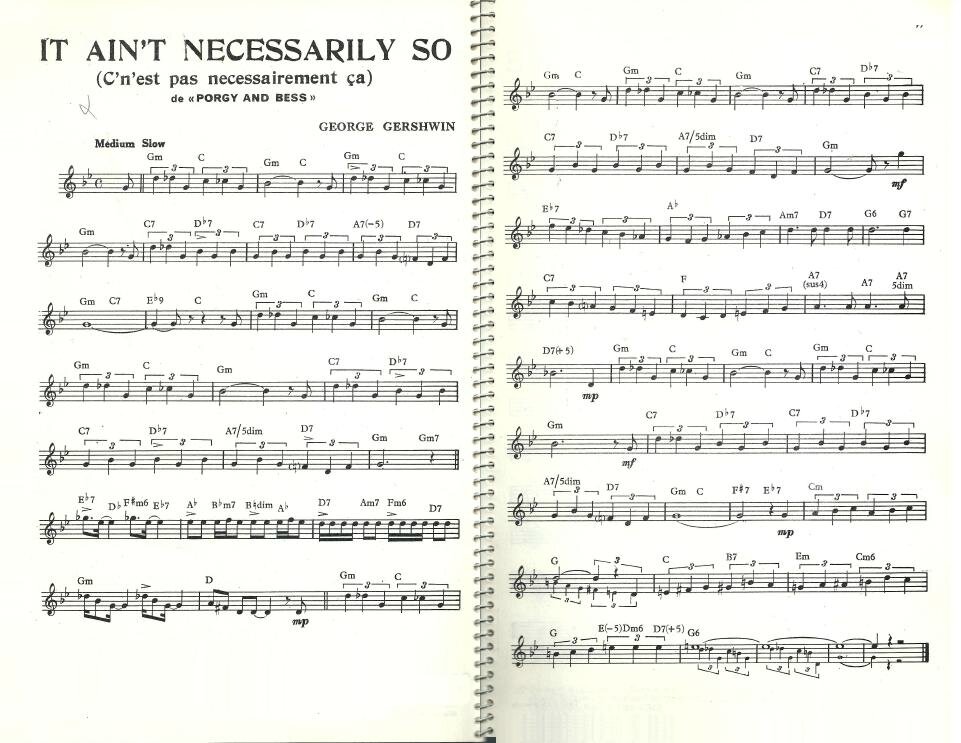 http://accordeonduriche.canalblog.com/
archives/2013/02/24/26460102.html
As everyone leaves for home
that evening, Crown, who has
been hiding out on the island,
comes out of the bushes, and
forces Bess to stay with him. She
makes it back to Catfish Row a
few days later, and talks with Porgy
about her sins and then exclaims
I LOVES YOU PORGY
(Decca Records, 1948)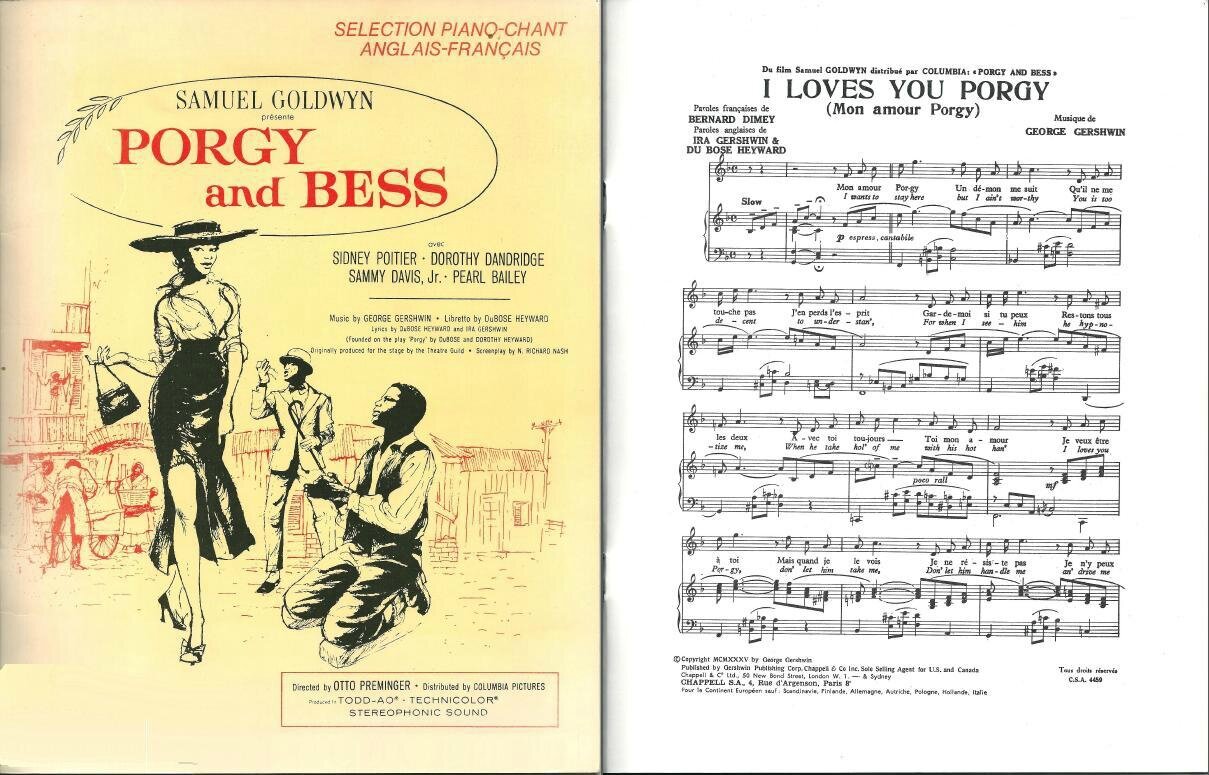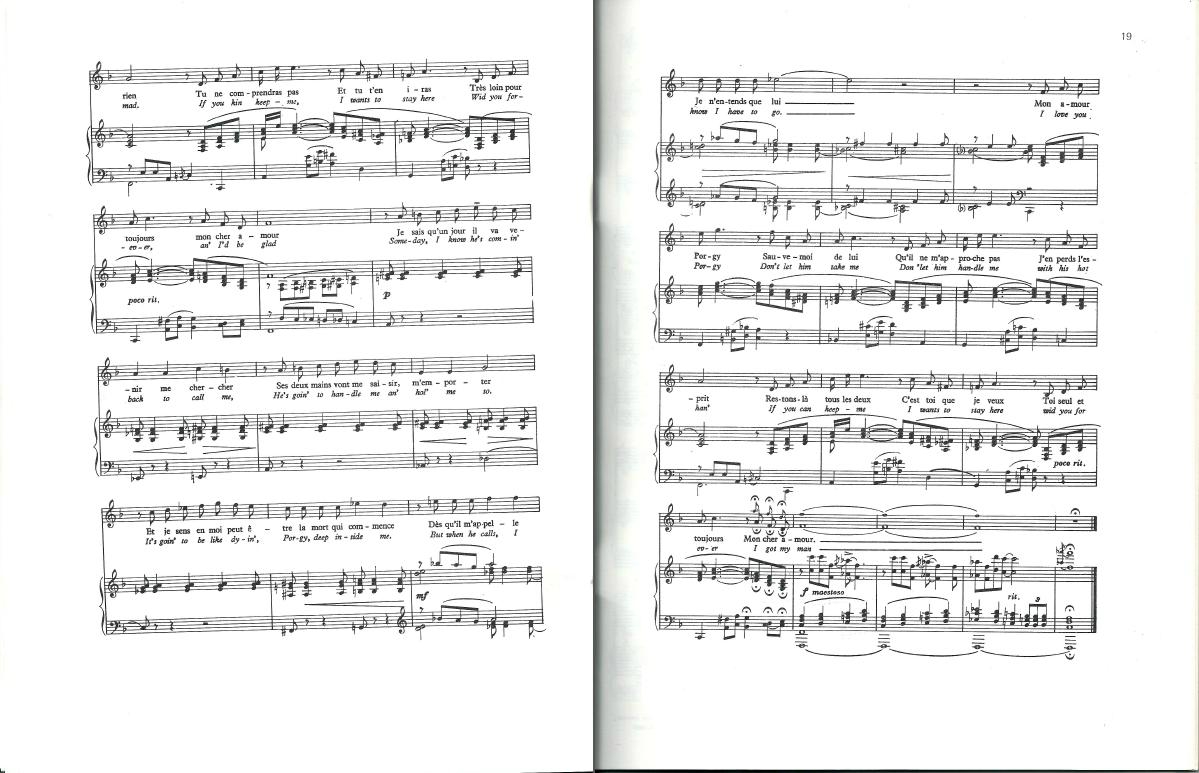 http://accordeonduriche.canalblog.com/archives/2012/12/02/25653281.html
She then begs for Porgy's help.
The act ends with a disastrous
hurricane. At the height of the storm,
Crown appears. He beats Porgy and
boasts about his hold over
ACT III
The final act begins with a devastated
community cleaning up in the aftermath
of the hurricane and trying to soothe
Clara, whose husband was one of
several fishermen killed in the storm
(Clara, Clara, don't you be downhearted).
CLARA, CLARA,
DON'T YOU BE DOWNHEARTED
Crown appears once more, and
sneaks towards Porgy's house,
intending to kill him, but Porgy
reaches out of the window and
strangles Crown. A day later, the
detective arrives to investigate, and
takes Porgy away. While Porgy is
gone, Sporting Life again tries to talk
Bess into coming to New York
(There's a boat dat's leavin').
THERE'S A BOAT DAT'S LEAVIN'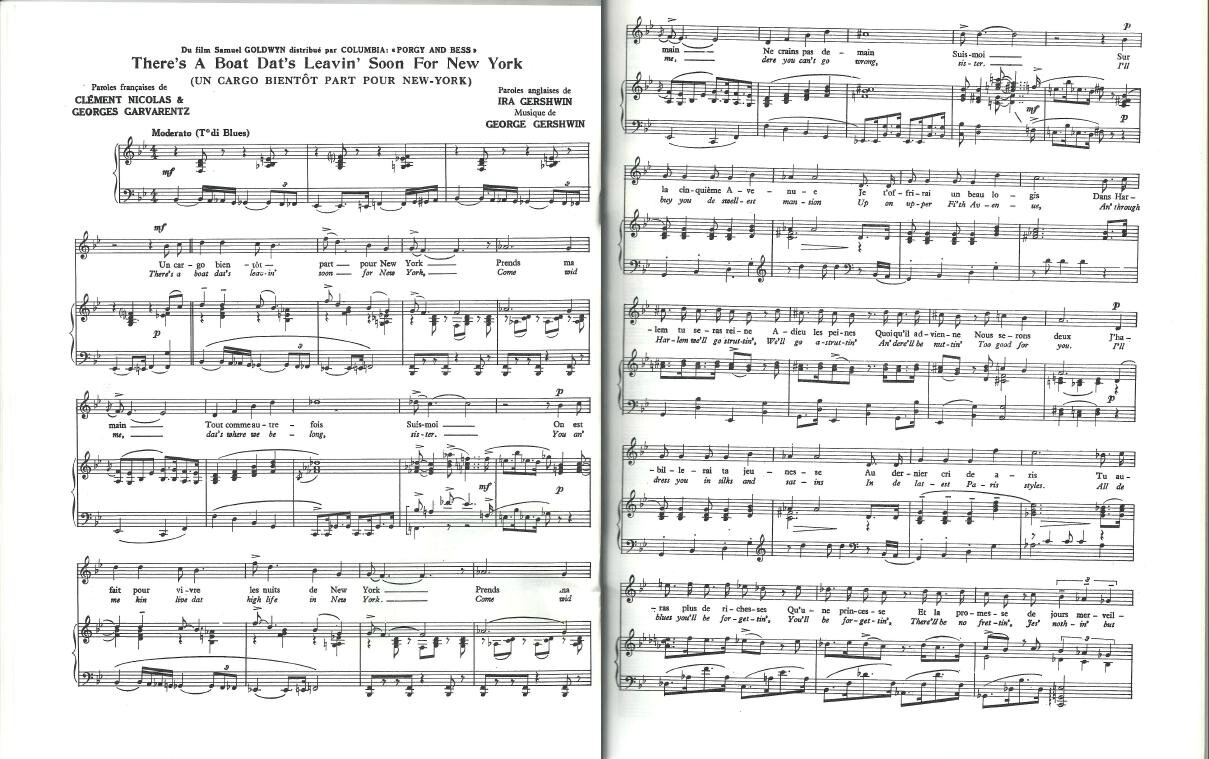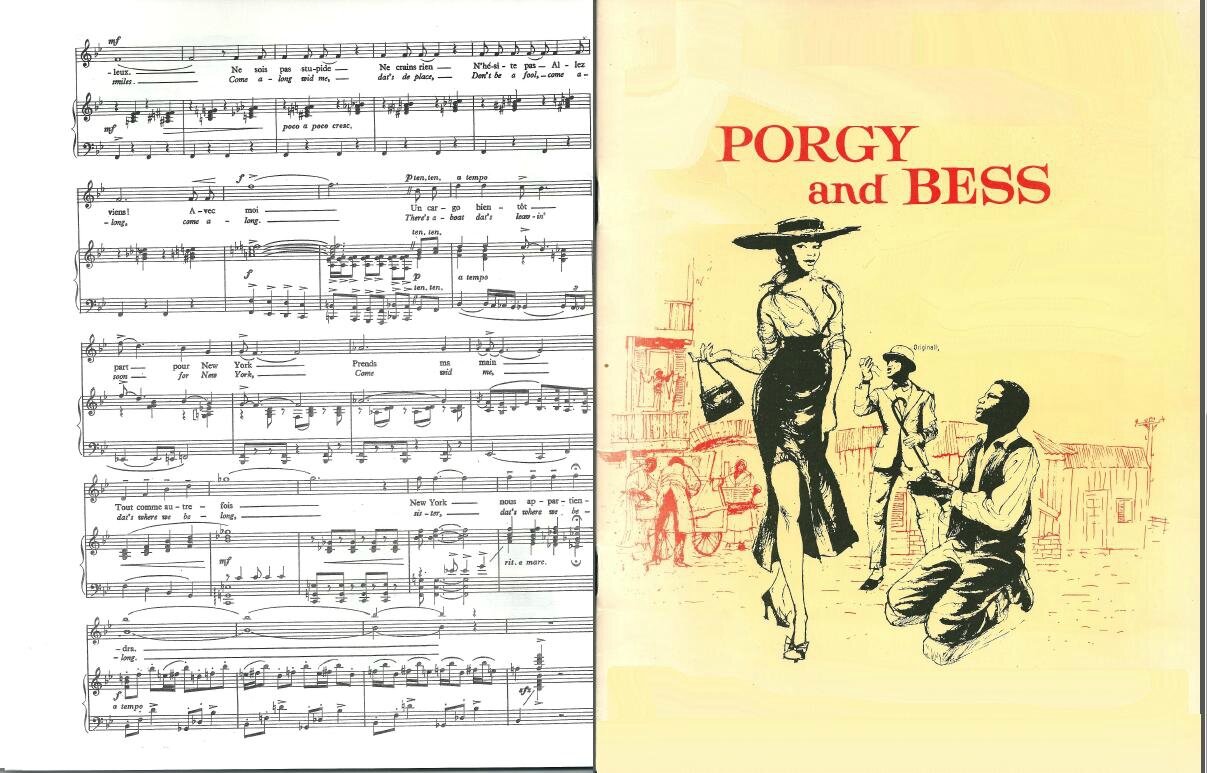 http://accordeonduriche.canalblog.com/archives/2012/12/19/25949747.html
While she is insulted by Sporting Life's
insinuations, she eventually follows
him. Porgy returns a week later,
having beaten the charge, to find that
Bess is gone. Porgy gets into his goat
cart, and resolves to head north to
rescue Bess and bring her home. The
opera closes as he and the entire
community sing Lawd, I'm on my way.
OH LORD, I'M ON MY WAY
Sir Willard White, Vocalist
Sir Simon Rattle, Conductor
London Philharmonic Orchestra
PORGY AND BESS ON THE RADIO
(New York -- July 19, 1935)
PORGY AND BESS
1959 COMPLETE FILM
Otto Preminger, Director
LINKS