QUOTE:
"Music is to the soul as food is to the body."
AUTHOR:

Rita Mae Brown
MEANING OF THE QUOTE:
"You need food to nourish your body
and music to feed your soul."
THE ITALIAN WOMAN
IN ALGIERS
OVERTURE
("L'Italiana in Algeri")
Leonard Bernstein, Conductor
New York Philharmonic
THIS LINK HAS THE ENTIRE OVERTURE ANALYZED:
linked with the opera itself, which is
unusual for Rossini's overtures:
"L'Italiana" starts with a theatrically
heavy slow introduction ("Pria di dividerci")
leading into an exciting allegro with
elements of sonata form. The first theme
("allegro") is perfect in establishing much
of the confusion that Mustafa's
Osbert Lancaster:
Costume Design for
Mustafa
(the Bey of Algier who kidnaps the
main characher Isabella)
foolishness
causes; while the more gentle second
theme ("dolce," "leggiero") could
symbolize
the lovesick Lindoro (Isabella's
kidnapped love interest). A musical link
occurs
in the crescendos that feature a
rising
theme which will appear later in
Taddeo's (an older companion of
L'Italiana in Algeri
Aria di Taddeo
Bruno Taddia, Vocal
THE ITALIAN WOMAN
IN ALGIERS
("L'Italiana in Algeri")
Short Animated Film Rendition
Emanuele Luzzati and Giulio Gianini, 1968
(Using Decoupage)
The Italian Girl in Algiers
(L'Italiana in Algeri) was
Rossini's fifth opera
(his first comic opera)
written in in 1813 when he was 21 years old
which took him just twenty-seven days to write.
The plot is introduced with a lively overture.
This famous overture, something of a tribute
to Haydn's

Surprise Symphony

, lull the audience
with a quiet, unassuming opening, then hit them
with the whole orchestra, has light pizzicato
passages contrasted by huge orchestral
segments showing off Rossini's flair for
melodic invention.
CHARACTERS IN THE OPERA
Isabella
The Italian Girl
Young Italian Sailor
In Love with Isabella
(tenor)
Mustafa
Bey of Algiers
An Elderly Italian
Friend to Isabella
Bey of Mustafa's Wife
Isabella's Confindante
Elvira's Slave
Captain of the Bey's Guard
Harem Women
(silent)
Pirates, Slaves, Sailors
and his desire to add
an
Italian woman to his harem.
The Italian
girl, Isabella,
is searching for her lost love,
Lindoro,
who has been kidnapped by the
Bey of Algiers. In her search for Lindero
she is shipwrecked in Algiers
and taken captive by Mustafa (the Bey)
who falls in love with her. While herself
being held captive, Isabella
surprisingly
finds Lindoro
among the
Bey's prisoners.
Isabella
hatches a plot of
escape
that
involves flirtation and stealth
to
outwit
the Bey.
At the end, she
and Lindoro
Lindoro
sail away together.
THE ITALIAN WOMAN
IN ALGIERS
("L'Italiana in Algeri")
Opera (Complete) Part 1
With English Subtitles
https://www.youtube.com/watch?v=VCeLF3wSyMo
SCENE 1:
A small apartment in Mustafa's palace
SCENE
2:
Near the seashore
SCENE
3:
A small apartment in the Bey's palace
SCENE
4:
A magnificent hall in the palace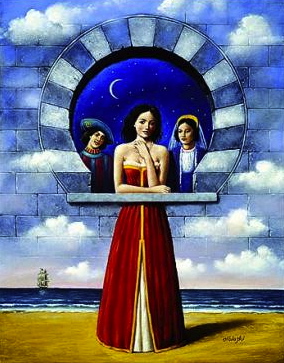 INTERMISSION
ACT II
SCENE
1: A small apartment in the Bey's palace
SCENE
2: A large apartment in the palace
SCENE
3: A small apartment in Mustafa's palace
SCENE
4: A grand hall in the palace
THE ITALIAN WOMAN
IN ALGIERS
("L'Italiana in Algeri")
Opera (Complete) Part 2
With English Subtitles
https://www.youtube.com/watch?v=RWMCm1iayFM