QUOTE:


"Musical compositions, it should be remembered,
do not inhabit certain countries, certain museums,
like paintings and statues. The Mozart Quintet is
not shut up in Salzburg: I have it in my pocket."
AUTHOR:
Henri Rabaud
MEANING OF THE QUOTE:
"Music is an art form that can
be appreciated everywhere."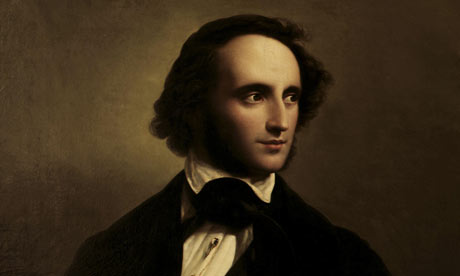 IN E MINOR OPUS 64
John Gulich: A Violin Concerto, 1898
Isaac Stern, Violin
Eugene Ormandy, Conductor
Philadelphia Orchsta, 1958
This piece is one of the most frequently performed
of all

violin

concerti in violin literature.
I. Allegro molto appassionato
Mendelssohn dispenses with the extended
orchestral introduction that was then the norm
and instead launches straight into the turbulent
first movement's soaring, passionate main
theme after just three beats of a quiet,
throbbing vamp in the orchestra. This main
theme is written in classic

sonata form

having
a variety of thematic expositions, a development,
and recapitulation of the themes.
Rather than bringing this movement to a
defined close after the

coda

, Mendelssohn
has a single

bassoon

playing a sustained
tone provide the bridge to the overall restful
mood of the second movement.
This slow movement, which is simple in form but
profoundly expressive, is in ternary (ABA) form.
The principal theme is noble, and the violin
develops it through the whole range of the
instrument in several minutes of unbroken melody.
Again eliminating the standard moments of
silence between movements, Mendelssohn
immediately starts the third movement.
III. Allegretto non troppo-Allegro molto vivace
Composed in hybrid

sonata

rondo

form,
Mendelssohn concludes the concerto with
sprightly, high spirited, vibrant music. The
fi
rst theme scampers and flutters; the second
is like a fairy's wedding march. Both main
themes are developed ingeniously ending in
a bustling coda where the music
attains a real noble feeling.
Following his appointment in 1835 to principal
conductor

of the

Leipzig Gewandhaus Orchestra

,
The First Gewandhaus Building
This was the first concert hall for the orchestra
located under the roof of the Trading Hall
and
the guildhall of Leipzig's cloth merchants.
when he was just 26,
Mendelssohn
named his childhood friend
Ferdinand David
as the orchestra's

concertmaster

.
The work's
origins derive from this professional
collaboration. In a letter dated 30 July 1838,
Mendelssohn wrote to David:
"I should like to write a violin concerto for
you next winter. One in E minor runs through my
Sir Thomas Beecham, Conductor
Royal Philharmonic, 1949
Georges Enesco, Conductor
Orchestre des Concerts Colonne, 1938
Walter Hendl, Conductor
Franz Konwitschny, Conductor
Leipzig Gewandhaus Chamber Orchestra, 1955
Zubin Mehta, Conductor
Isarel Philharmonic Orchestra